We're getting closer and closer to the official release of
Soap Crafting
, and there is still time to get in on the freebie action! Today is the
last day to place a pre-order
 and not only receive the 240-page, full-color, soapmaking extravaganza that is the Soap Crafting book before everyone else, but also get access to 
two exclusive video tutorials
from the book, plus
two never-before-seen project downloads
AND a
comprehensive, downloadable PDF guide to coloring cold process soap
.
Note that these exclusive offers are only available for pre-orders completed through BrambleBerry.com. International customers, please e-mail SMA(at)brambleberry(dot)com with your pre-order.
Even better yet, a little bird told us that we may be able to ship the pre-order books as early as next week! =) Also, total side note, one of our awesome team members made the little graphic below. Generally, I wouldn't be talking about myself in the third person … (ha!)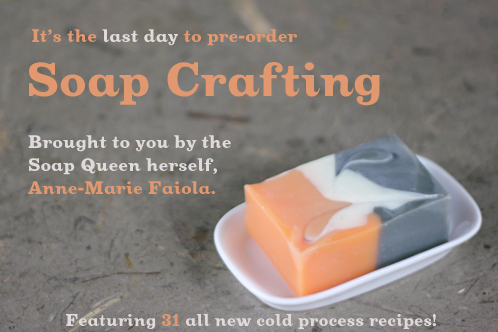 We've been busy making soapy favors for our local book release party at the end of this month using projects from the book, and these are a few videos of us cutting some of the projects this week. Below is the fabulously fall-inspired Pumpkin In-The-Pot Swirl soap:

And this is the fierce Firedrop Swirl, one of my favorite recipes from the book.

Place your BrambleBerry.com pre-order  here and get all the details to a special SoapCrafting club (!!!) before anyone else! What are you most excited to see in the book?