This Spin Swirl Soap is inspired by the beautiful layers and textures of agate stones. The design is created with a technique known as the "Spin Swirl." It's an advanced technique that involves layering colors of soap in the mold. Once the mold is full, it's spun on a Lazy Susan or directly on the counter. The spinning motion causes the soap to swirl together. See the spin swirl in action here.
Once the soap is swirled, pieces of LCP Melt and Pour Soap Base are sprinkled into the corner of each bar. LCP soap base has less glycerin than regular melt and pour soap, which helps prevent sweating. But, because cold process soap needs to cure unwrapped, you may still experience some glycerin dew. Our bars got a little bit, but the glycerin dew actually added some extra "sparkle" to the embeds!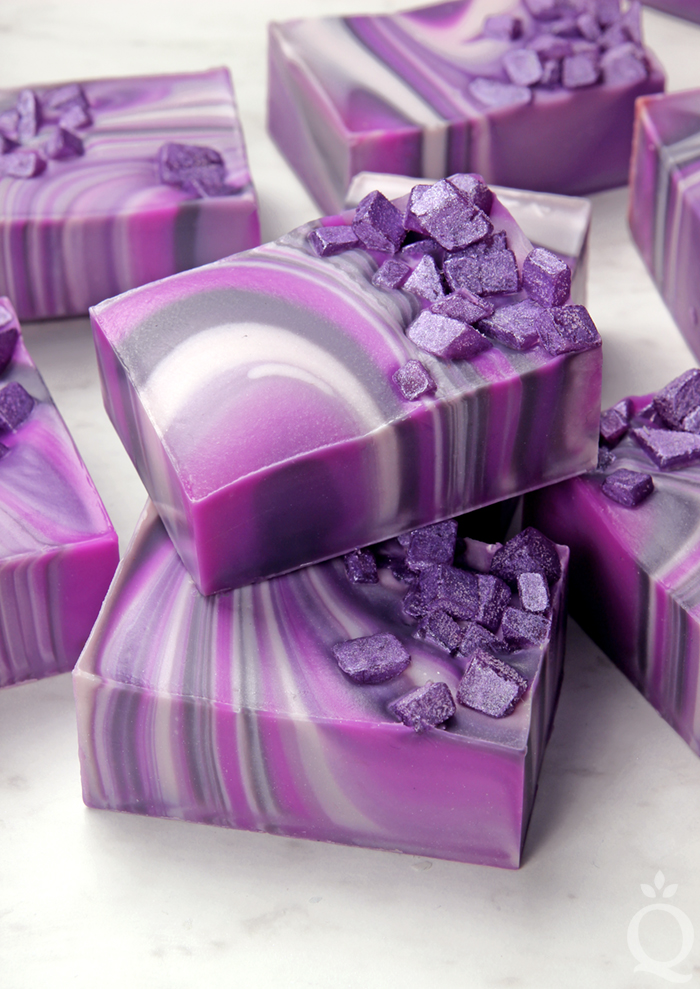 The key to the spin swirl is formulating a recipe that gives you plenty of time to pour all the layers. Once the layers are poured, the soap needs to be liquid enough to move during the spinning process. This recipe contains plenty of slow-moving oils like olive and apricot kernel. It also features the new Amethyst Fragrance Oil, which doesn't accelerate in cold process soap.
If the soap needs to be fluid for a long period of time, you may be wondering why there is a water discount. The first time we made this soap, we experienced heavy soda ash on the bars. Soda ash is more likely to occur if the soap is poured thin and temperatures are kept cool, like this batch. A water discount is the best way to prevent soda ash. Luckily, even with the water discount, we were still able to create a spin swirl. Just remember to use your stick blender sparingly and work quickly.