Simi of Muddy Mint lives in Colorado where she creates beautiful soap. She sells her products online and co-owns a retail space called Mud & Madder with a friend who creates ceramics. She utilizes the power of natural colorants and essential oils to create soap that looks amazing and benefits the skin. Learn more about how Simi got started, what inspires her, and her soaping tips.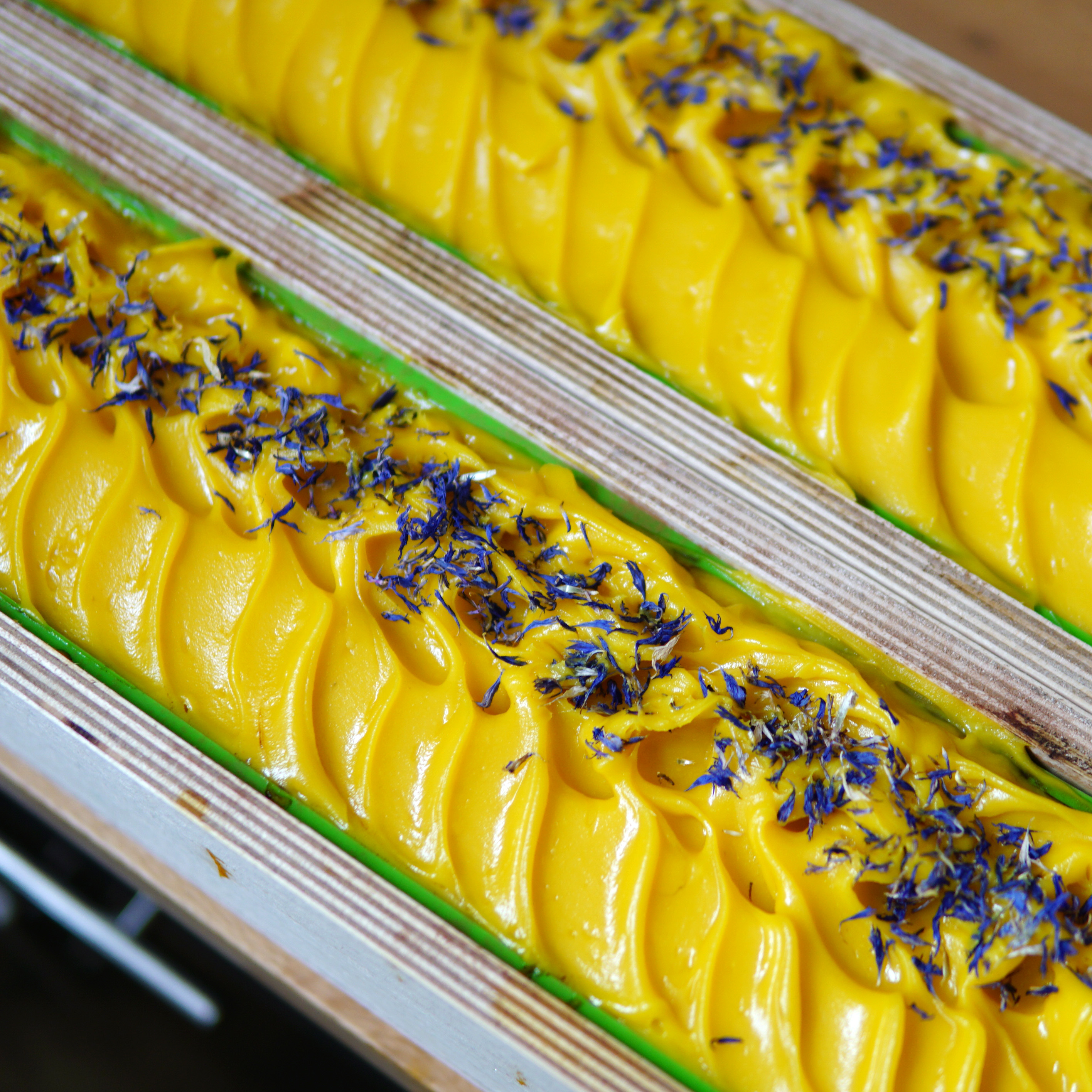 Turmeric & Carrot Soap topped with cornflower petals. 
How long have you been soaping and how did you get started?
I made my very first soap on May 5, 2016 (I know because I posted it immediately to Instagram!) It was the Beginner's Cold Process Soap Kit from Bramble Berry and it was probably the easiest soap I ever made, which might have you scratching your head. To understand, you have to back up a bit. A few months before that day, I was looking up how to help alleviate dry skin and came across the idea that handmade cold process soap might help. I immediately turned to Etsy and bought some soap from two fantastic soapmakers: Mirasol Farm and Artisan Bath & Body.
After the very first use, I was hooked. My dry skin improved and the lovely new scents in my shower had me sniffing my skin all day. I started to obsess over the idea of making my own soap. This led me to binge-watching Anne-Marie on YouTube. I'm pretty sure I watched every single cold process soap video she made and then, finally feeling confident, I bought the kit from Bramble Berry. By that point, I felt I could make soap in my sleep, even though I'd never mixed lye or held a stick blender. When the time came, I was super prepared and found the whole thing very easy. So, I kept going.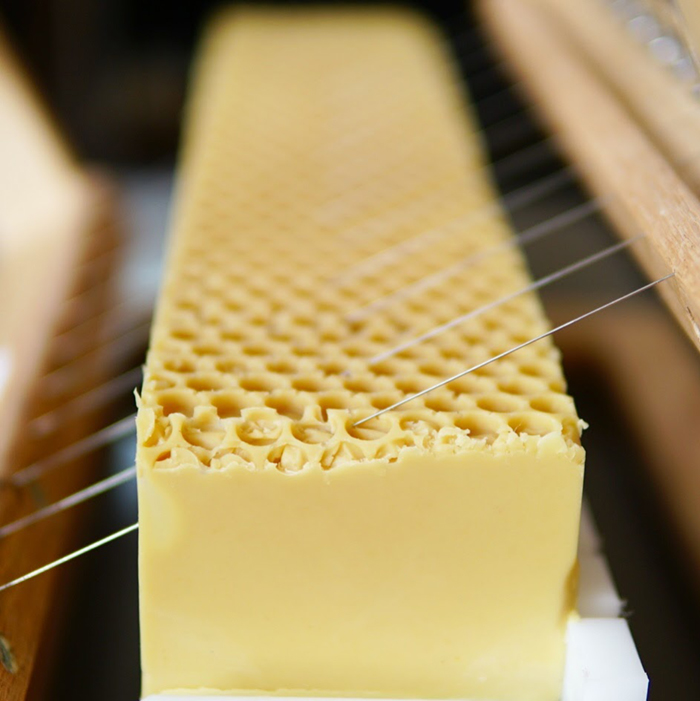 A loaf of Oatmeal Milk & Honey Soap being cut into bars. 
What sort of advice would you give to those soapers just starting their businesses?
I would say, go slow and make sure you love what you're making. Use reliable recipes and understand the simple concepts of soapmaking before you dive too deep.
When I first started, I had a recipe I loved (it was the Bramble Berry Creamy Orange Soap) and a recipe that my mom loved (my mom tested all my soaps early on and gave me detailed notes on each one). I opened an Etsy shop in August 2016 with only our very favorite soaps and as I continued selling soap, I made sure that several people tested my bars before selling. I also received so much incredible advice and encouragement from other soapmakers on Instagram. This warm and welcoming community has made a huge difference in my business by providing advice, keeping me interested, and injecting me with a huge dose of daily inspiration.
And, as with any business, customer service is the number one thing. Far more important than any other aspect of your business. Reply to your customers ASAP, package things well to make a good impression (don't just throw your soap in a bubble envelope!), ship as quickly as you can or keep your customers informed of when you're shipping, admit when you made a mistake, and be nice.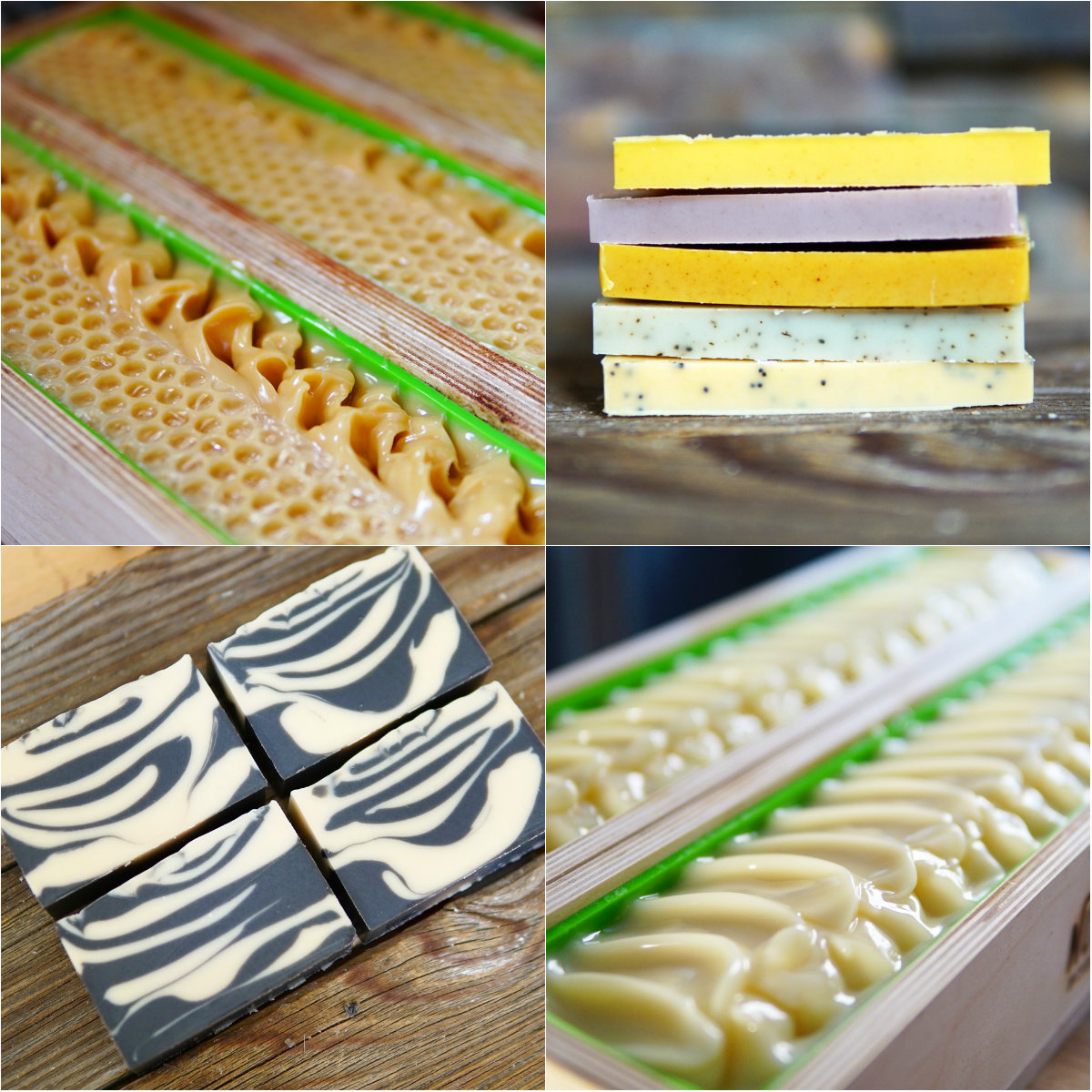 Top left, clockwise: Almond & Honey Soap, a stack of soap ends, Coconut Lime Soap, Vanilla Moo Soap
What is your favorite type of product to make?
All natural, cold process soap is by far my favorite. I went through a huge experimentation phase with my soaps in 2017 as I moved away from using palm oil and started formulating my own soap recipes. SoapCalc was my best friend and I spent countless hours trying out different combinations and doing research. It was so much fun, because researching and learning is at the heart of everything I love doing.
Every time a new recipe finished curing, I was so excited to see how it would feel and lather compared to the last. I also switched almost exclusively to essential oils, which was a huge learning curve as well (I'm still working on it!) and using all-natural colorants. There's so much territory to cover that you couldn't possibly get bored with it.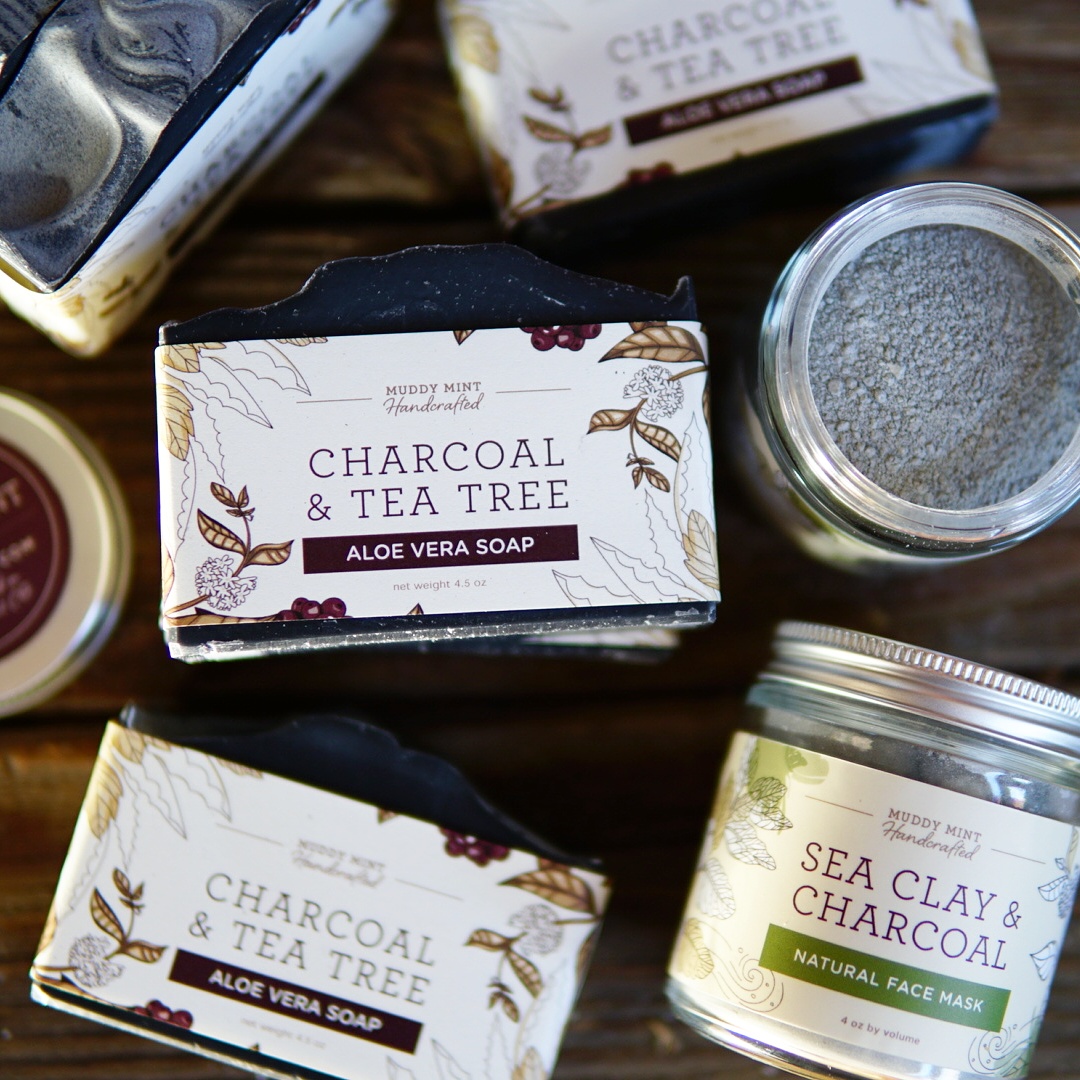 Charcoal & Tea Tree Bars and Sea Clay and Charcoal Facial Masks.

What inspires you to create?
As I mentioned earlier, the experimentation! I like to research different ingredients and think about how I can use them together and what properties that ingredient would bring to a soap. I'd say I'm more of a functional soapmaker (as opposed to an artistic one). For example, a few years ago, I accidentally came up with a recipe for a soap that became very popular because it didn't contain any shea butter or tree nut oils. It was something I hadn't really thought about before, but I had a lot of people telling me how great it was that I made a soap like that. It is now part of my main product line. I also did extensive research on my Charcoal & Tea Tree soap recipe to really try to make it a great facial soap. I tend to focus a lot on the base soap recipe and one of my challenges right now is that I have a lot of different ones and I need to streamline it quite a bit to boost my productivity.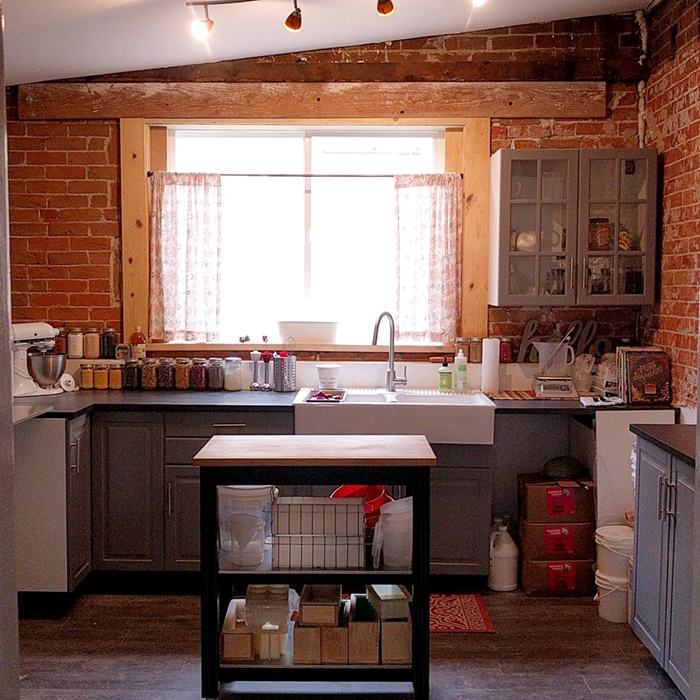 Simi's adorable soaping space in Colorado. 
How did you come up with the name for your business?
The name Muddy Mint comes from my mom's garden, which has also been an inspiration to me. My mom is a fantastic gardener and she is very interested in growing native plants and herbs. She lives in Ottawa, Canada (my hometown) and I was thinking about how the herbs, like mint, look after a big rain. All splotchy and muddy and naturally beautiful. My dream is to live near her and have her grow all the herbs and plant-based colorants for my soaps!

What is your favorite Bramble Berry product and why?
I have a lot of favorites, but the product I always have to have in stock is the Orange 10X Essential Oil. It sticks so well in cold process soap and has a gorgeous natural orange scent (and a beautiful natural color!) It's fantastic for blending with both essential oils and fragrance oils (try it with Champagne for a Mimosa Soap!) I haven't seen another 10X Orange Essential Oil anywhere else, so I'm always stockpiling this one.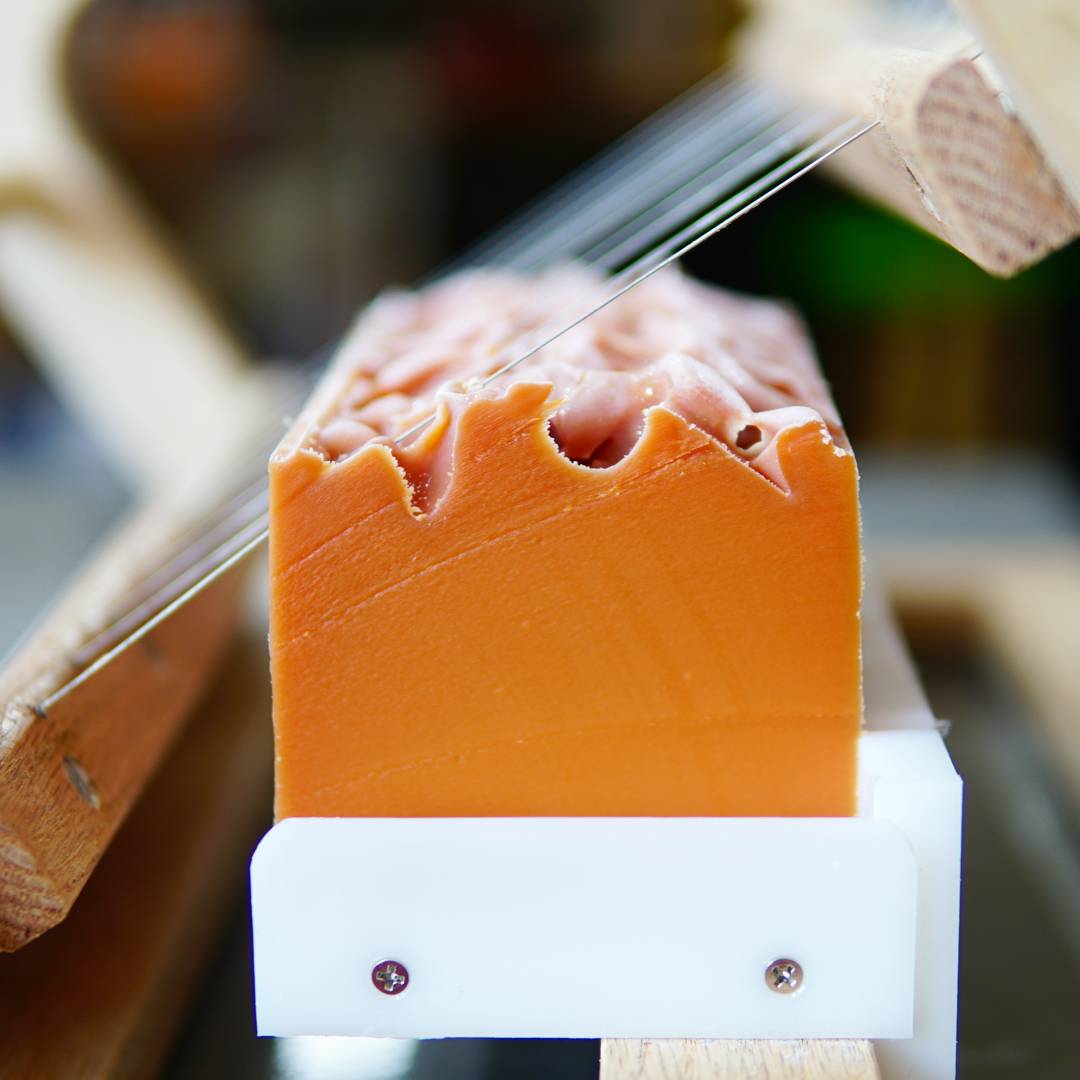 Sweet Apple Cider Soap. The color from this batch came from exclusively from apple cider.
Tell us something unusual or unique about yourself.
I grew up speaking three languages! French, Punjabi, and English. I have recordings of me as a little kid switching between all three. Sadly, I've lost all of my Punjabi and my French is pretty rusty these days, even though it was my first language.
What are some of your other hobbies and interests?
I co-own a store called
Mud & Madder
with a friend of mine that makes ceramics. We have our studios there as well as a small retail space with our handmade products. It's been a lot of fun to run a business with a physical space and to collaborate with another maker. We've met so many interesting people and I'm finding it very different to run a brick and mortar than to sell online. The rest of the time, I'm a mom to an almost 12-year-old boy, so we bike around, go for hikes, and play in the creek, since we live in beautiful Colorado. I also turn into a crochet addict every winter!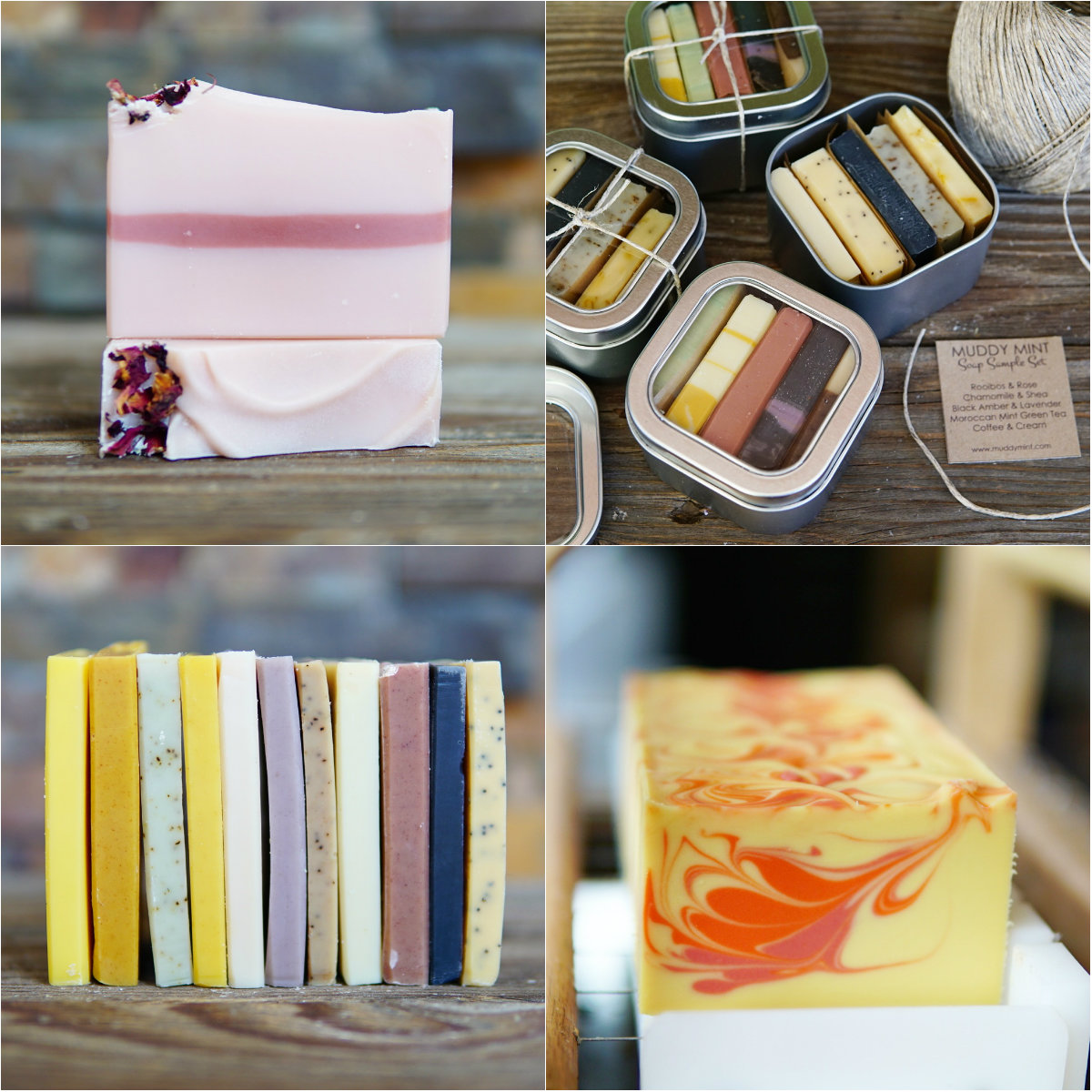 Top left, clockwise: Coconut Rose Soap, sample tins of soap being packaged, Champagne & Orange Soap, a collection of Simi's soaps.
What is your number one soaping tip?
Try soaping cool, like under 100 degrees or room temperature. I feel like when I started doing that, things got much easier on many fronts. I'd also say, don't be afraid to play with your recipes, experiment, and test out what happens. Take something you know works and tweak it just a little to see how it changes your soap. Then, keep going. Oh, and also, always write everything down, even if you think you'll never make that thing again. Use a notebook instead of a scrap piece of paper that will inevitably get lost – I know from experience!
Have you ever experienced a horrible soapy fail? How did you work through it, and what did you learn?
Yes! I've had quite a few failures, but sometimes when I cut the soap they turned out okay. But, I did get a mini soap volcano once when making a soap with pumpkin puree.
I was soaping pretty hot, as it was early on in my soapmaking, and I added the pumpkin puree to my batter and all seemed well. I poured my batter into my mold and was working on the top, when all of a sudden, the hot gooey inside of the soap started to ooze out the top! My white top was destroyed and I was spooning chunky batter back into my mold. Eventually it stopped, so it wasn't too bad, and I ended up with a very rustic looking soap.
My experience with soapmaking is that almost everything is salvageable. The end result is still a soap that is made with amazing ingredients and even if it isn't the prettiest soap in the world, it's still a good soap. I almost always sell my "ugly soap" (although I'd never sell anything lye-heavy of course!) I also learned to soap cool after that incident and I have rarely had any issues since. But, I also don't try to do a lot of complicated patterns, so my soapmaking is pretty basic compared to some soapmakers out there.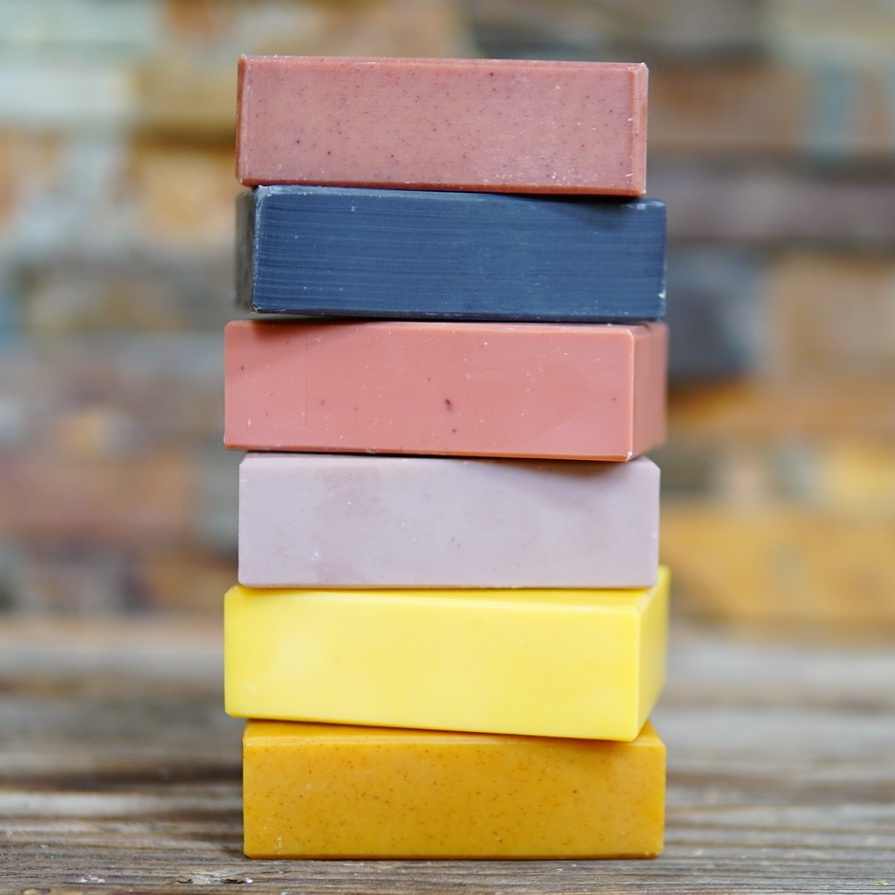 Simi's naturally-colored soaps. From bottom to the top: turmeric, carrot juice, purple Brazilian clay, rose clay, activated charcoal, and madder root.
If you were to give one of your products to a stranger, what would you choose and why?
Assuming they didn't have any allergies or fragrance sensitivities, I'd give them a bar of my "Garden Mint" soap. It has oatmeal and crushed peppermint leaves for light exfoliation, a blend of peppermint and spearmint essential oils, which is really pleasant but also a little tingly, and it's all natural, vegan, and palm-oil free.
For someone with very sensitive skin, I'd give them "
The Minimalist
," which is a tree-nut free soap made with coconut milk. It's unscented, but very creamy and wonderful in the shower. It's one of my favorite soaps.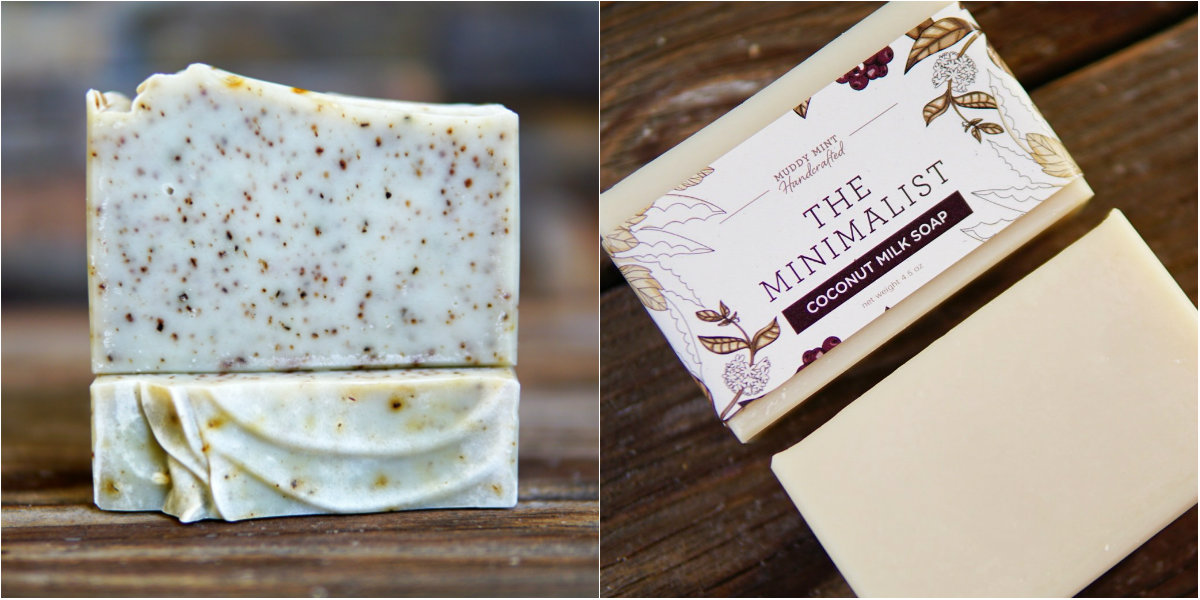 Left to right: Garden Mint, The Minimalist
What do you love most about creating bath and body products?
I love the research and experimentation. It's actually a little problematic as it takes me a long time to release a new product (non-soap product, that is), since I'm always looking for that perfect balance of simple, beautiful, and functional. But, if I don't get to play and learn, I get bored, so I'm glad that it's taking me a long time to figure stuff out!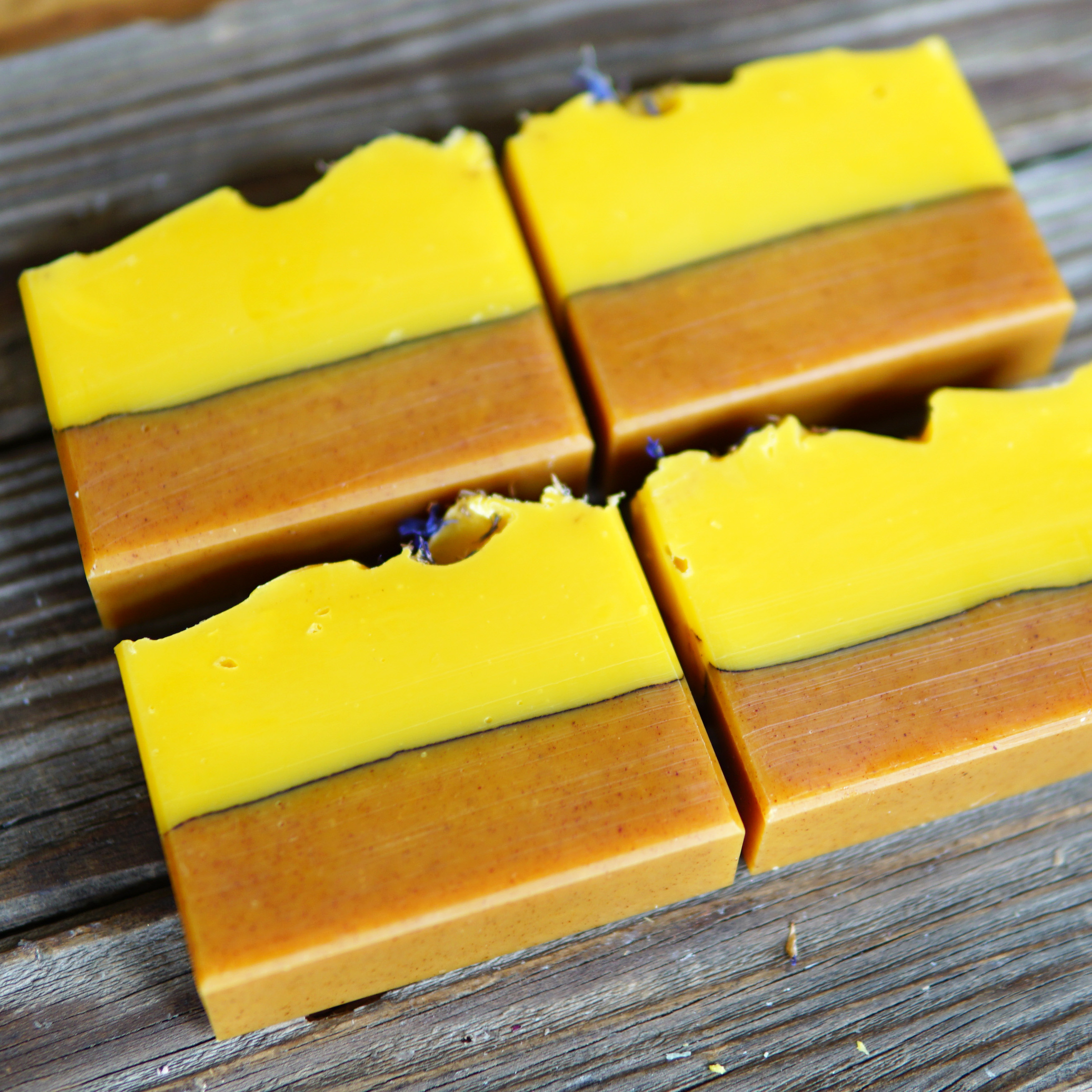 Turmeric & Carrot Soap, scented with orange and clove essential oils.