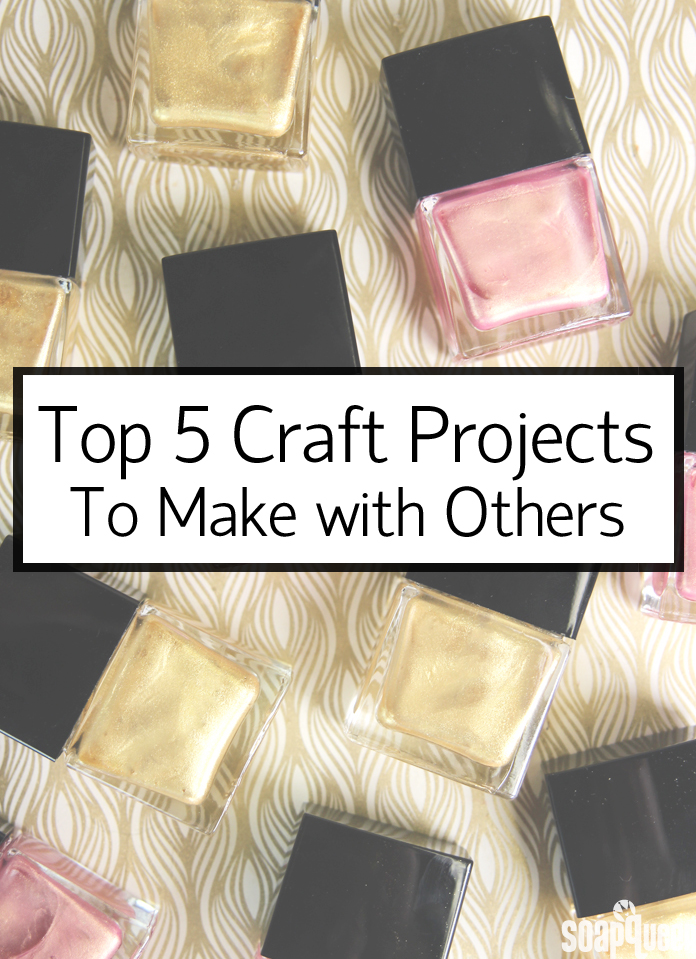 Do you have a friend or family member who enjoys crafting? If you do, you know how amazing it is to have somebody in your life who loves creating as much as you do. I love swapping recipes with my crafty friends, testing their products and giving feedback, troubleshooting with them, and having somebody to lament with when your project doesn't turn out like you planned. If you don't have a crafty friend, inviting them over to make a project with you can ignite their interest. A few of my friends are now hooked on soaping after we made a project together.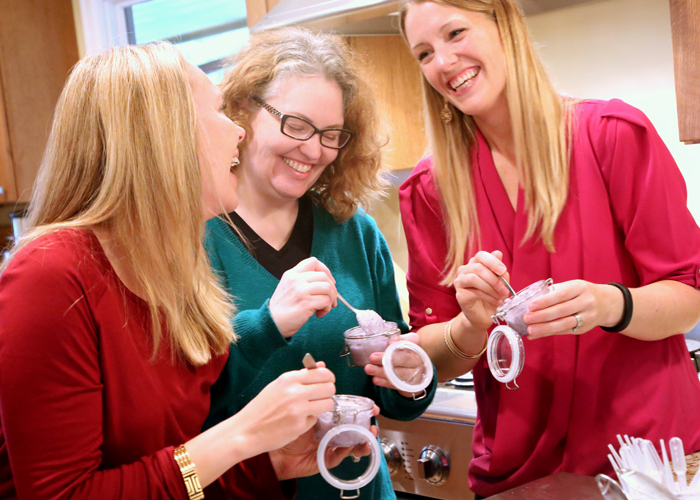 If you love the idea of sharing your crafts with others (seriously, it's the best!) here are five projects that would be perfect. They are all great for beginners or somebody who is a little more experienced. It's so rewarding to experience the feeling of, "Wow! I can't believe I made that!" for the first time all over again with somebody you care about. I especially love crafting with friends and family during the holidays.
Orange Poppy Seed Salt Scrub
One of my favorite projects to create with beginners is a sugar or salt scrub. They are easy to create, the cleanup is minimal and they don't require any safety gear. Scrubs are also more forgiving than some projects (ie: cold process, bath bombs) if the ingredients are measured incorrectly. Add a little too much salt? Add more liquid ingredients! Add a little too much liquid/oil? Add more salt. Sugar scrubs in particular are great because everybody has some sugar in their pantry. Tell your crafting buddy to supply the sugar and you'll bring the rest.
This Orange Poppy Seed Salt Scrub recipe is a go-to because it smells amazing and looks adorable. Who doesn't enjoy the bright and citrusy smell of Orange 10X Essential Oil? In the Soap Queen TV video below, I invited my friend Courtney to craft with me. I'll be doing more videos with Courtney soon…I'm telling ya, crafting with friends is so fun!
Heavenly Lilac Bath Truffles
Bath fizzies are a great project to make with someone who isn't familiar with bath and body projects. They are a fun luxury item, and watching the bath bomb fizz in the tub feels like a successful science experiment! The only downside to bath bombs is they take a little practice to get the texture just right. This is especially true when the mold has two halves to create a sphere shape, like the 
Bath Bomb Mold & Package
 or the 
Stainless Steel Bath Bomb Mold
. I wouldn't call these molds difficult, but they do require some practice. For a beginner, I recommend using a bath bomb mold that is single cavity. That way, the bath bomb mixture is pressed into the mold and is good to go!
The Heavenly Lilac Bath Truffle is a great example of this style of bath bomb. The bath fizzy mixture is pressed into the Guest Five Flowers Mold along with rose petals for a feminine look. They contain a little extra butter (cocoa butter and shea butter) than normal bath bombs, which makes them a moist texture. I have found that adding a little oil or butter helps the bath bomb hold its shape nicely.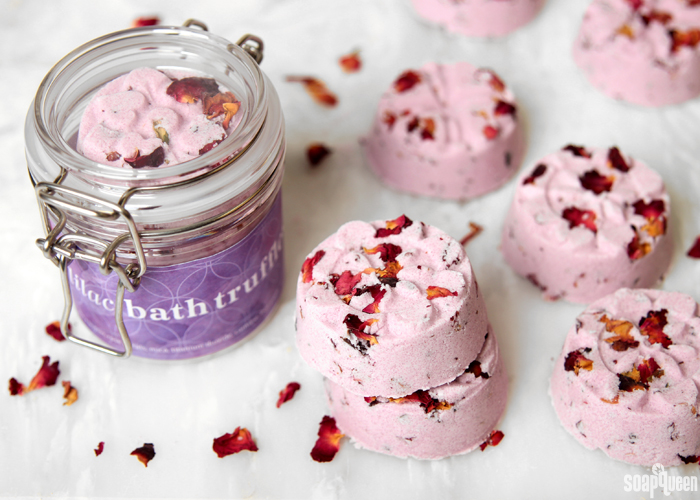 DIY Sparkling Bath Crystals
Looking for super, super simple project? Bath salts are perfect. Most bath salt recipes involve mixing salts with fragrance or essential oils. The DIY Sparkling Bath Crystals take this up a notch, but are still incredibly easy. Various colors of mica, glitter and a touch of Polysorbate 80 are mixed into the salts to create a sparkly crystal look. I love the idea of hosting a bath crystal party where friends and family can create their own birthstone. How fun would that be? Okay, gotta go plan that guest list! 😉
Melt & Pour Soap Truffles
Melt and pour soap doesn't require safety gear because you don't work with lye. It doesn't require any cure time, and is ready to use right away. This makes it great for beginners, or those looking for the immediate satisfaction of using the project! The Melt and Pour Soap Truffles would be a fantastic group melt and pour project. There are two varieties of soap bases that need to be chopped, and three colors (brown, pink and white) that need to be created. This gives both you and your crafting buddy (or group!) something to do. They also cool and harden in the mold fairly quickly because of their small shape, which means friends can leave with the soap on the same day.
In my opinion, the real fun of this project comes after the "truffles" are removed from the mold. The little soap spheres are drizzled with melted soap and Medium Pink Sea Salt is sprinkled on top. This process is perfect for a group. It's also helpful to have a partner spray the 99% isopropyl alcohol while the other person drizzles soap and sprinkles the soap on top. Teamwork!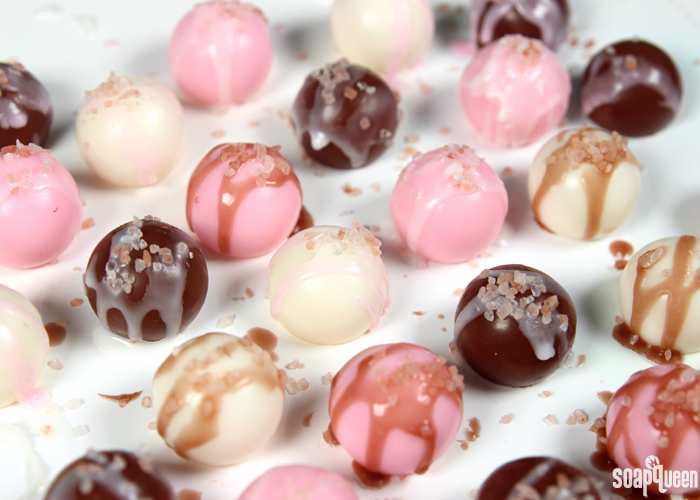 Nail Polish Wedding Favor DIY
Oh, nail polish. Who doesn't love it and need more? When I tell friends we are making nail polish, I usually get one of two responses. The first is a delighted squeal and "Yay!" and the other is "You can make nail polish!?" Once I explain we aren't making the nail polish base and are just customizing the color, it all comes together. =) Nail polish is a great project because it doesn't require a recipe. All you do is fill up the bottle with nail polish base, and add mica and glitter then, shake, shake, shake! The Nail Polish Wedding Favor DIY was created with a wedding in mind, but the beautiful gold and pink hues are great for any occasion. Just make sure to have a bottle of nail polish remover nearby, just in case there is a spill.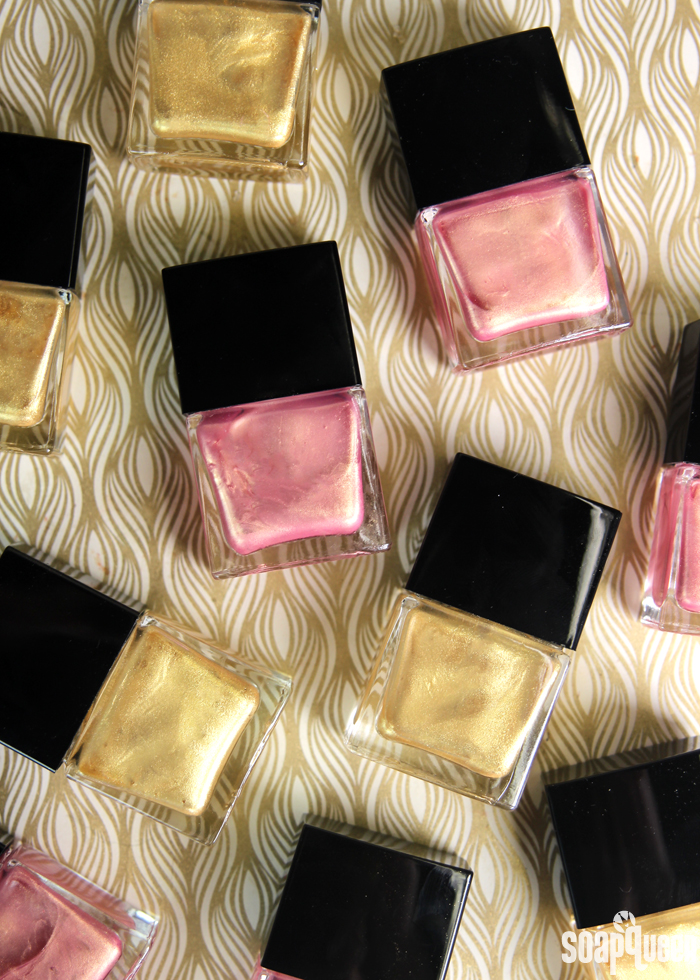 So there you have it! My 5 fun projects to make with your friends, family, or whoever might be interested in whipping up a scrub or bath bomb with you. =) These projects are especially great if you have visitors for the holidays. Making a project is a fabulous way to build memories, or start a new holiday tradition.