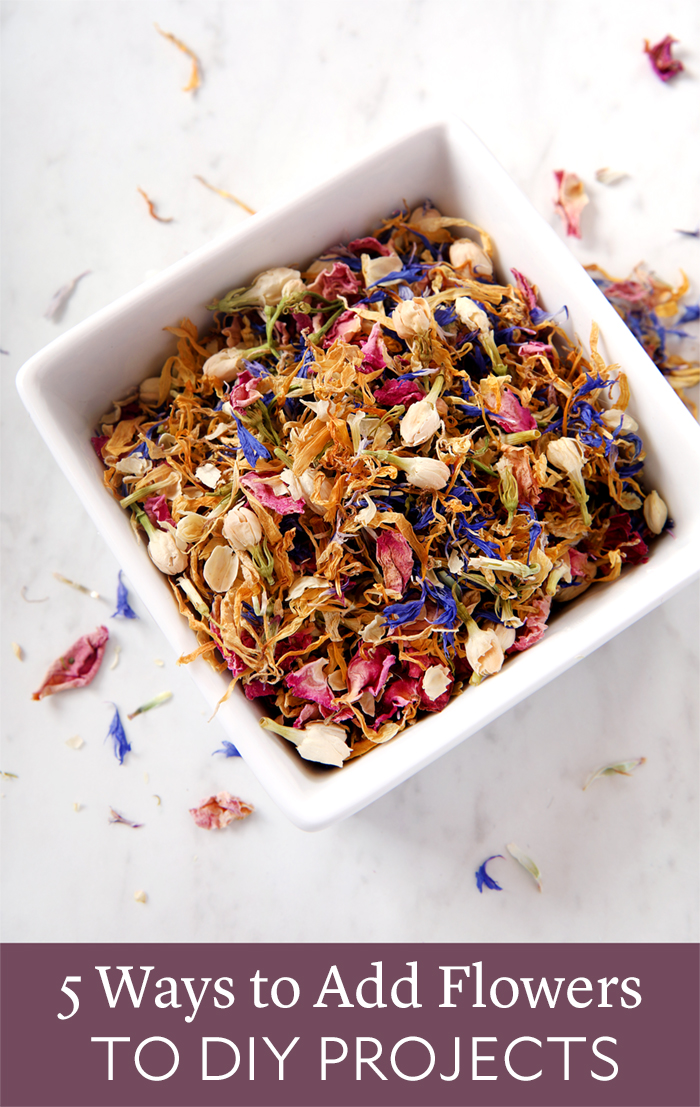 Flowers add a touch of elegance to handmade bath and beauty products. Topping cold process soap with a sprinkle of pink rose petals or scenting bath bombs with Blushing Orchid Fragrance Oil can take your recipe from good to great. Both of those products are part of the new Modern Floral Collection, which is a fresh take on the classics. Learn how to add them to your projects below.
Infused liquids
You can customize your recipes with infused liquids. There are several ways to go about that, including hot and cold methods. For the cold method, add about 1 tablespoon of dried flowers per 1 ounce of oil or a liquid like aloe. We don't recommend using distilled water because it can mold. Place the infusion in an airtight container and let it sit at room temperature for 4-6 weeks. Learn more about this method in the How to Infuse Oil with Tea post.
For the hot method, you can use the stove or a slow cooker. It takes 20 minutes to 4 hours depending on the size of your batch. The How to Infuse Oils with a Crock-Pot post has more information on how to get started. Once the oil is ready, you can pour it through a strainer with cheesecloth and enjoy.
Flowers add skin-loving properties to the liquid, and they can also add a subtle color and scent. In the Lavender and Rose Water Toner, dried lavender is infused in aloe vera liquid to give the recipe a luxurious feeling. The Herb Infused Bath Oil is made with chamomile and marigold. You can customize both recipes with any dried flowers you like. Try new options like pink rose petals, safflower petals, or jasmine flowers.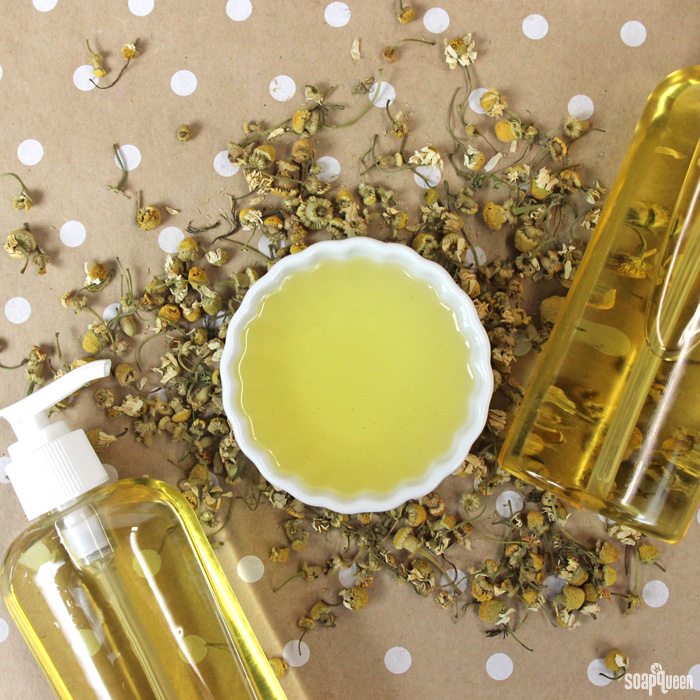 The Herb Infused Bath Oil has a skin-loving combination of chamomile and marigold.
Floral oils and extracts
If you're looking for a quicker way to incorporate florals, carrier oils are the way to go. Options like rosehip seed oil, sunflower oil, and lavender butter add something special to your recipe. For instance, rosehip seed oil is rich in vitamins A and C. It's a lightweight oil that absorbs quickly and works especially well for dry or mature skin. Those properties are put to good use in the Rosehip Eye Serum.
The serum also contains evening primrose extract. Extracts are made from raw materials like vegetables and mixed with fractionated coconut oil. They're easy to add to soap, lotion, and more – all you need is about 1 teaspoon per pound of product. Learn more about extracts in this post.
We have two new extracts, orchid and lotus flower, which help hydrate the skin. They'd be an excellent addition to the Rosehip Seed Bath Salts recipe. It's made with fine grained Dead Sea salt, rosehip seed oil, Rose Quartz Fragrance Oil, and red rose petals.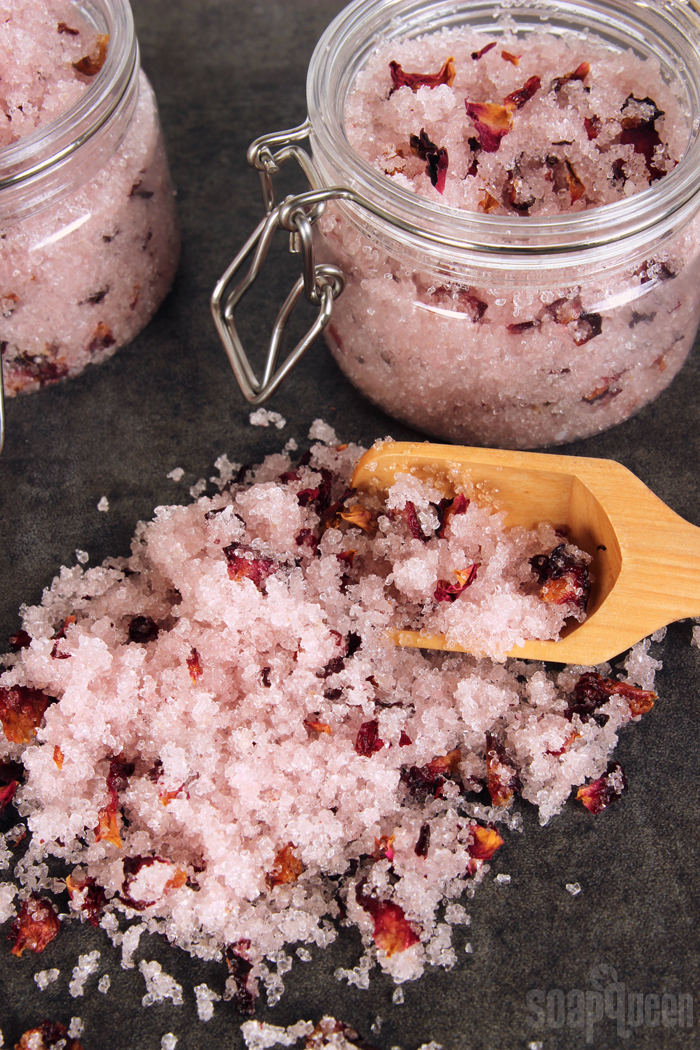 Add Rosehip Seed Bath Salts to your tub for a relaxing experience.
Floral scents
It's safe to say floral scents are pretty popular. We have a whole category dedicated to them and they're a staple in most perfumes and candles. We just added four new fragrance oils – Blushing Orchid, Baby's Breath, Wild Rose, and Daisy Chain. For a limited time you can sample 2 ounces of each scent in the Modern Floral Fragrance Oil Collection. Get it now for 40% off the retail price.
With so many options to choose from, you can find the perfect scent for your recipe. Rose Absolute adds a fresh scent to the Rose Clay Face Mask. It's a great way to pamper yourself. The notes of lemon, winter berries, succulent, and violet in Cactus Flower Fragrance Oil inspired the design for this cold process soap tutorial.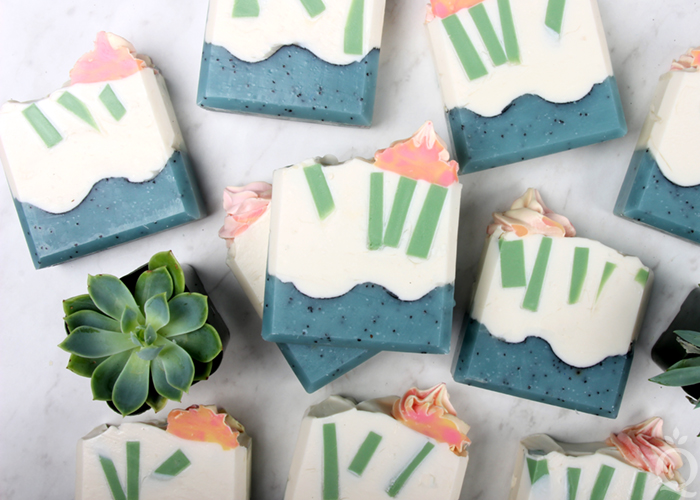 The notes of lemon, winter berries, succulent, and violet in Cactus Flower Fragrance Oil inspired the design for this cold process soap tutorial.
Floral powders
The shades you get from natural products like yarrow flower, safflower, and rosehip powders are beautiful. The Annatto-Yarrow Soap has several natural colorants, including yarrow flower, spirulina powder, and annatto seeds. It gives the soap a rustic and unique look.
Rosehip powder is especially interesting in cold process soap. When it's first added, the color isn't too exciting. However, the next day the bars turn a lovely rose red. A few days after that, the color changes to a dark red that's even prettier. See the finished color in the Beet Cold Process Soap. The color isn't the only advantage of rosehip powder – it also has a high concentration of vitamin C and other antioxidants, and it can be used as a mild exfoliant.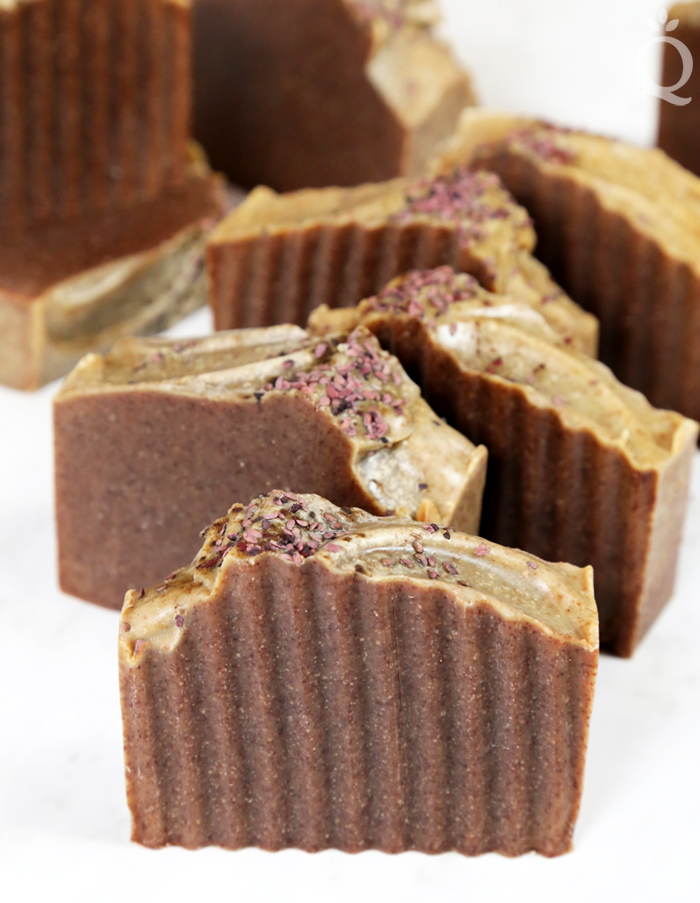 The Beet Cold Process Soap gets its dark red color from rosehip powder.
Flower petals
A finishing touch of pink rose petals or safflower petals is a simple way to make your products stand out. The Soothing Floral Bath Salts are made with three different types of salt, three different types of flower petals, and a fresh combination of Orange Blossom Candle and Soap Fragrance Oil and Lavender 40/42 Essential Oil. 
Jasmine flowers are the finishing touch on the Swirled Orchid Cold Process Soap. The bright color is a beautiful contrast against the purple and white design. The soap is scented with Blushing Orchid Fragrance Oil, which has notes of lemon, lime, cucumber, tuberose, and coconut.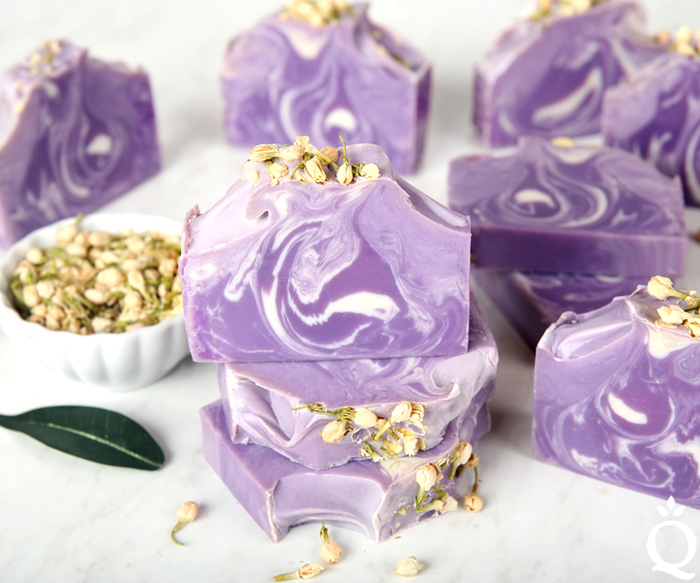 Jasmine flowers are the finishing touch on the Swirled Orchid Cold Process Soap.