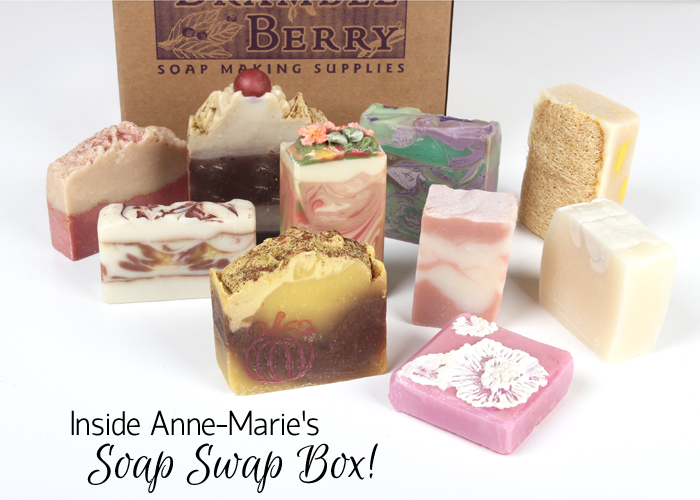 In the Spring Soap Swap, I decided to be a participant for the first time. That meant my ten soaps were swapped with the others, and I received a box filled with ten unique bars. It was so much fun, I had to do it again for the Fall 2016 Swap. If you'd like more information regarding the Soap Swap, check out this blog post to read the details. Want to participate in a future swap? Sign up for our newsletter; the date of the next swap will be announced in advance for newsletter subscribers.
I'm sure you can imagine, I see a lot of soap on a day-to-day basis. But, most of it is online. One of my favorite things about the Soap Swap is the ability to see, touch and smell a variety of handmade soaps. It's fun to admire the packaging, and eventually use it in the shower. Like my previous Soap Swap box, I was blown away with the soaps in this box! I didn't choose which bars made it into my box. My team randomly entered my soap into one "round" of swapping. Check out each soap in my box below, and learn a little bit more about the soaper who made it. Then, check out my unboxing video on Facebook!
SOAP #1: The first bar is Loofah Edge Soap made by Shannon of Elderberry Edge. Shannon started soaping about a year and a half ago, and is also a farmer. On her farm she grows a variety of crops including elderberries, blackberries, watermelon and garlic. She also grows her own loofah gourds for her soap! You can read about her loofah production here. Shannon's beautiful soap is scented with Gardenia Cybilla Fragrance Oil, and also contains goat milk. I can't wait to try it!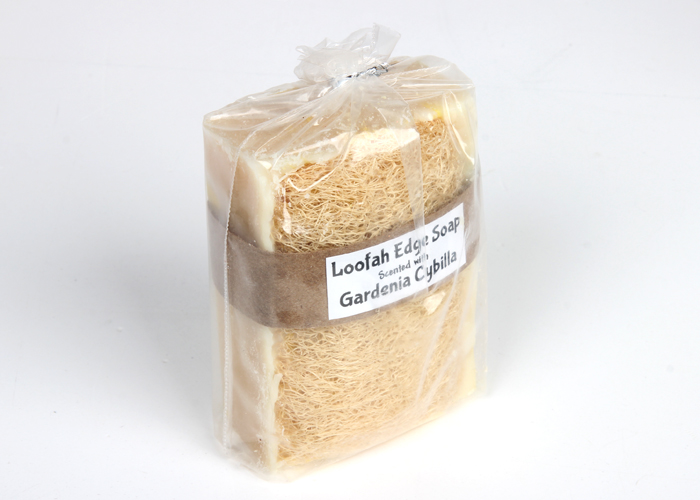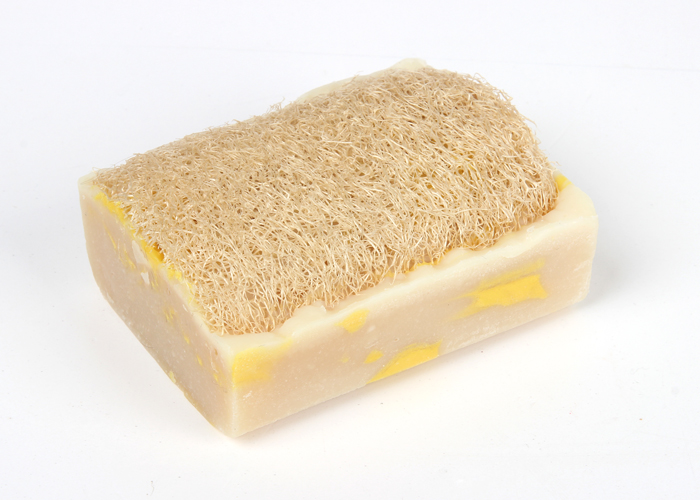 SOAP #2: This gorgeous bar was created by Merrie. To create the beautiful flowers on each bar, Merrie first piped the shape of the flower. Then, she used a wet cake decorating brush to pull the edging down to make it look like embroidery. Merrie also sprinkled iridescent glitter on top. I just love the wonderfully feminine look of these bars! They bars are scented with Energy Fragrance Oil. Merrie also attached a wood tag to the bars, which really elevates the packaging.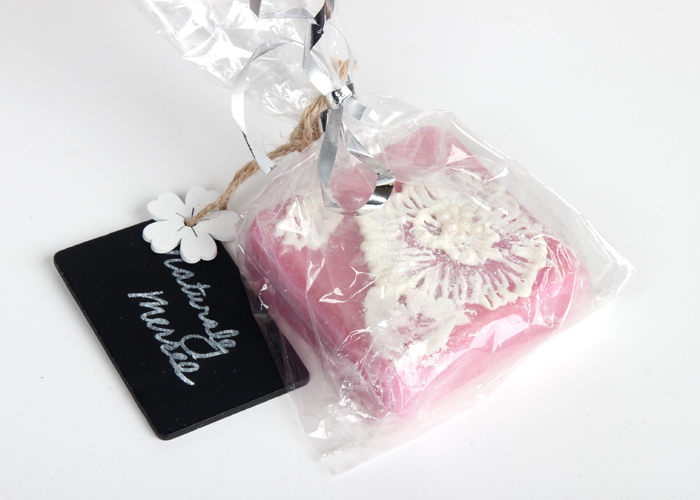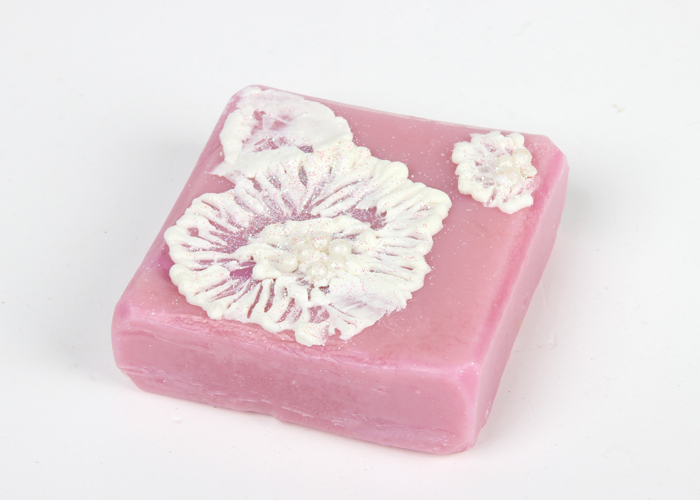 SOAP #3: This showstopper was made by Aileen of Soap Fixations. Aileen used to be a competitive pastry chef, and is a graduate from the Culinary Institute of America. Her skills in the kitchen can obviously be seen in her gorgeous soap. These bars feature Apple Moss Green Mica, Light Gold Mica, Super Pearly White Mica and Raspberry Mica. They are scented with Apricot Freesia Fragrance Oil for a floral scent. I'm blown away by the gorgeous swirl and intricate flower details on top. I also really appreciate the packaging of these bars; the sturdy box did a great job protecting the soap and looks very professional.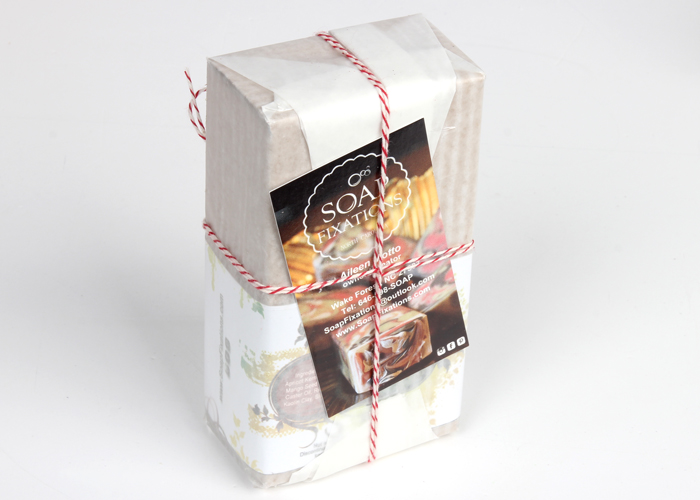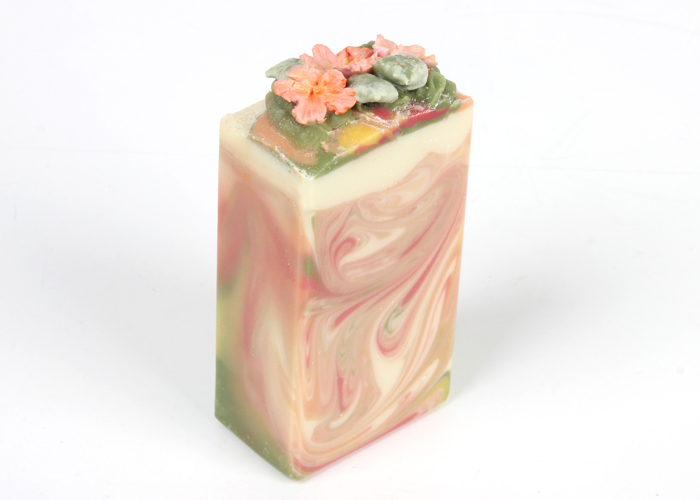 Find Aileen
Website
Facebook
Instagram
SOAP #4: The next soap is this adorable bar made by Haruna. Haruna started making soap when she was 14 years old in Japan. She now resides in Oregon, but was inspired by her time in Japan to create this cherry blossom soap, scented with Cherry Blossom Fragrance Oil. The soft pink color is achieved with rose clay. I just love the unique and adorable shape of these bars, and the soft swirl. The green and pink cigar band complement it perfectly.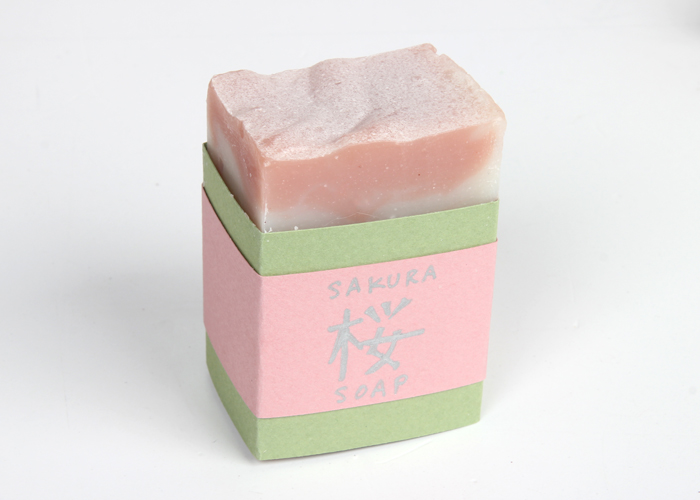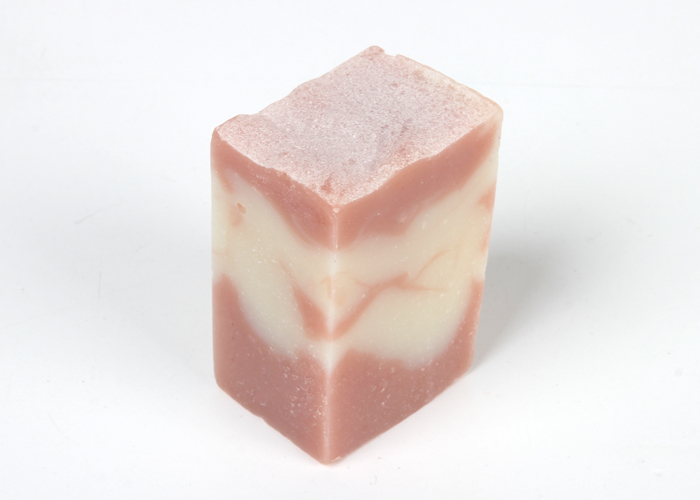 SOAP #5: This bar of soap was created by Lindsey of Kirkland's Creations. Scented with Grapefruit Bellini Fragrance Oil, this soap is actually a rebatched bar after the first batch didn't quite turn out. I love how Lindsey made lemonade with lemons! They look absolutely beautiful with a gold mica line and sparkle on top. The bars feature a plethora of amazing ingredients including aloe vera liquid and goat milk.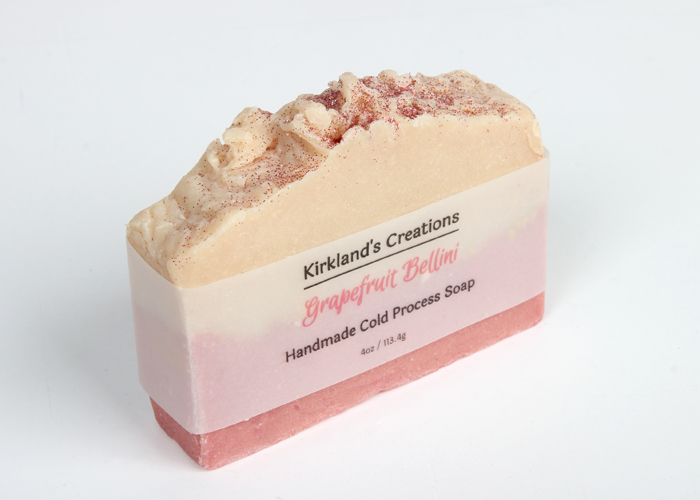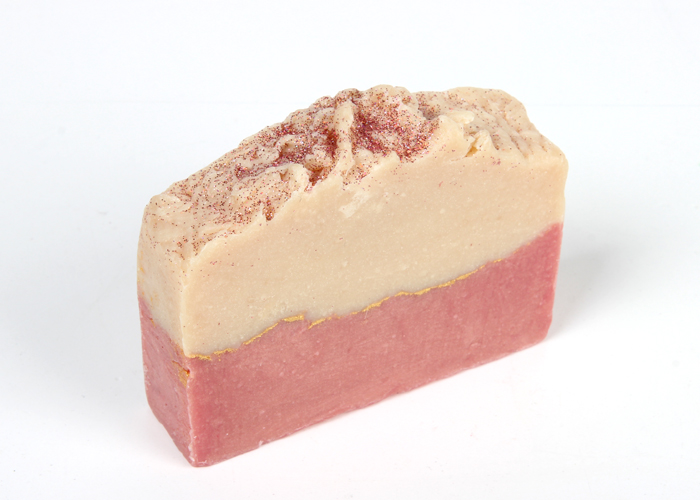 Find Lindsey
Etsy
Facebook
Instagram
SOAP #6: Created by Kim, these beautiful bars are scented with White Ginger and Amber Cybilla Fragrance Oil. I love how the warm color palette complements the scent. The bars include Tussah silk, kaolin clay and aloe juice. I love the idea of framing the swirl with two mica lines. It really makes it pop! The packaging on these bars is really fun as well.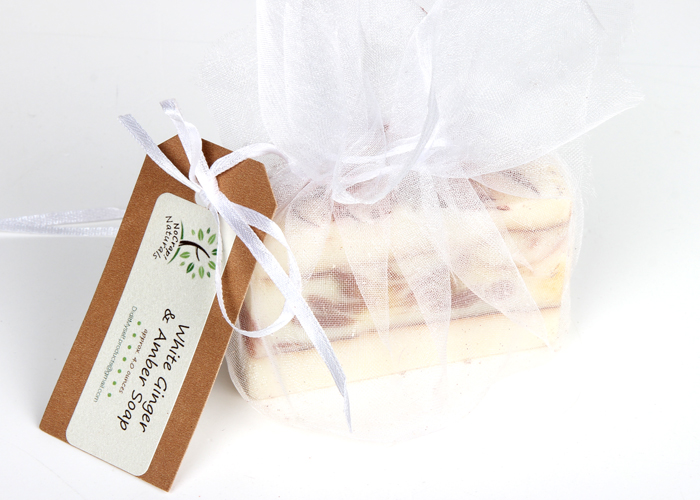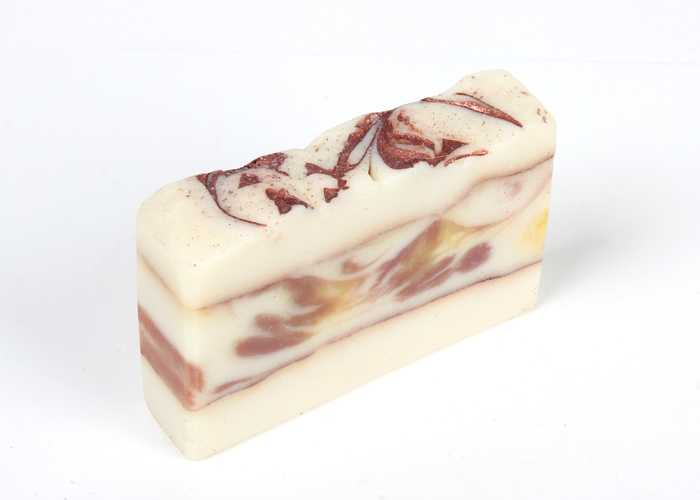 Find Kim
Instagram
SOAP #7: This bar created by Tabitha is the perfect example that simple can make a big impact! Scented with Spearmint Eucalyptus Fragrance Oil, Tabitha kept the bars simple with Super Pearly White Mica and Titanium Dioxide for a crisp appearance. Tabitha is currently in the process of starting her own soaping business. I love that Tabitha included a wood soap dish with the bar. It's great for a marketing standpoint, and soap dishes are essential for handmade soap! That makes it so easy and appealing for the customer.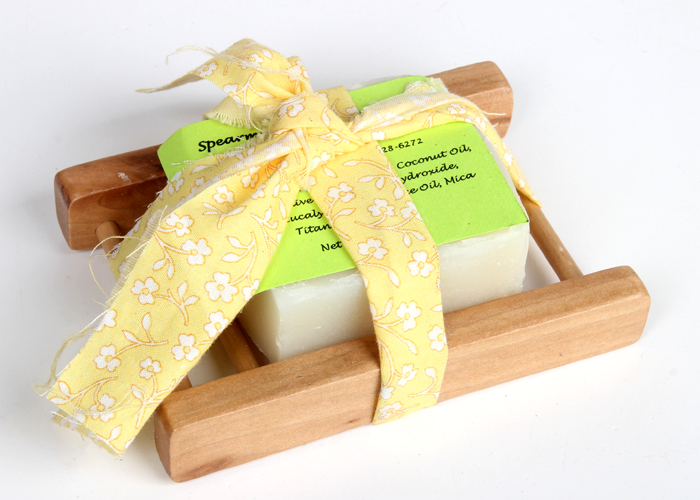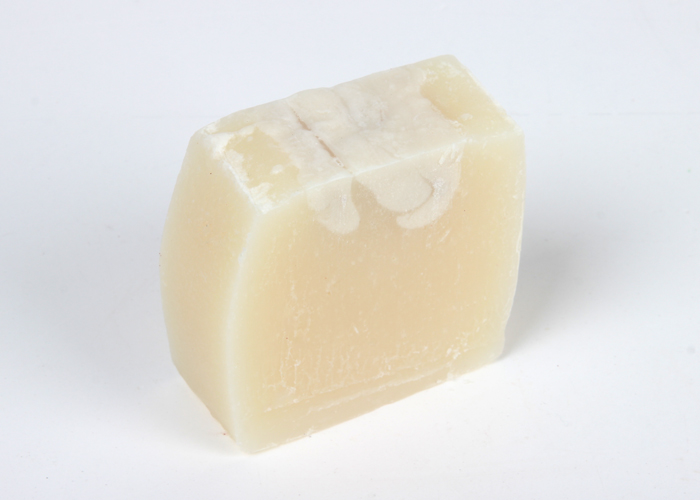 SOAP #8: How adorable is this French Vanilla Creme Soap created by Anika of Lillia Nikita? I just love the layers, soap frosting and pink embed on top. This bar is scented with Vanilla Select Fragrance Oil. I like how Anika made the fragrance discoloration work for her design. The center layer of these bars contain oats, and the bottom has a cute honeycomb pattern. Anika's bars contain beeswax and vanilla bean.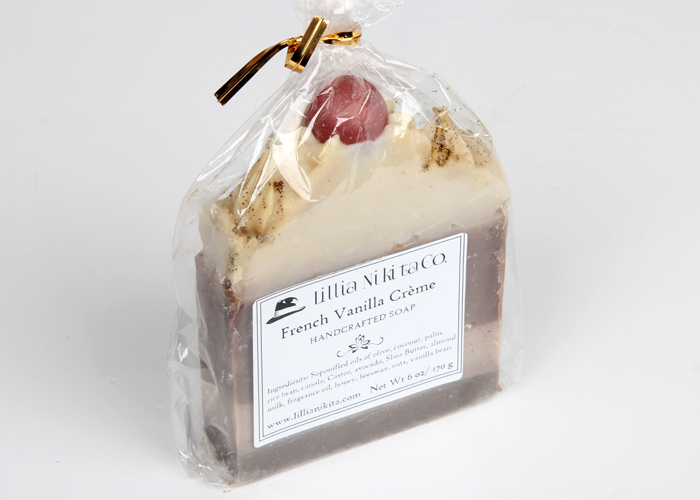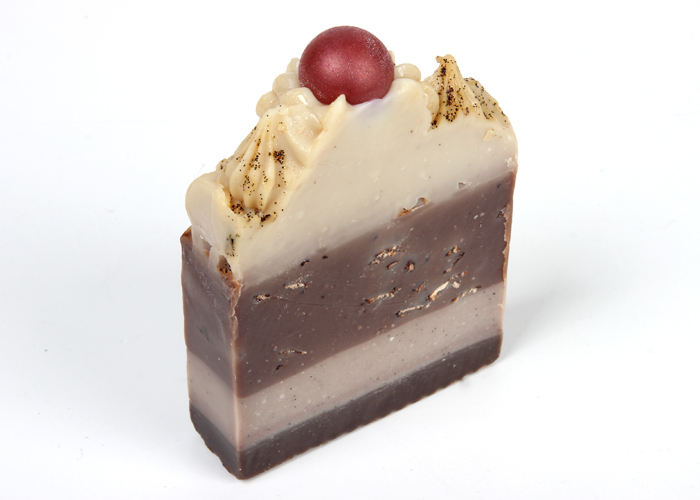 SOAP #9: Speaking of foody bars, this Pumpkin Patch Soap made by Barbara of J.L. May SoapMakers looks (and smells!) good enough to eat. It's scented with Pumpkin Spice Fragrance Oil, and includes real pumpkin puree in the recipe. I really like how Barbara created a rustic yet totally polished look with this bar. The various colors and layers are complemented by a cute pumpkin stamp. The mica on top gives a great finishing touch with the textured top.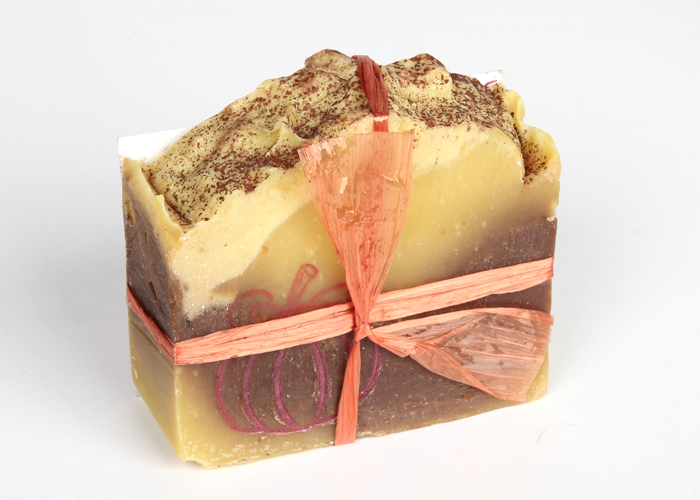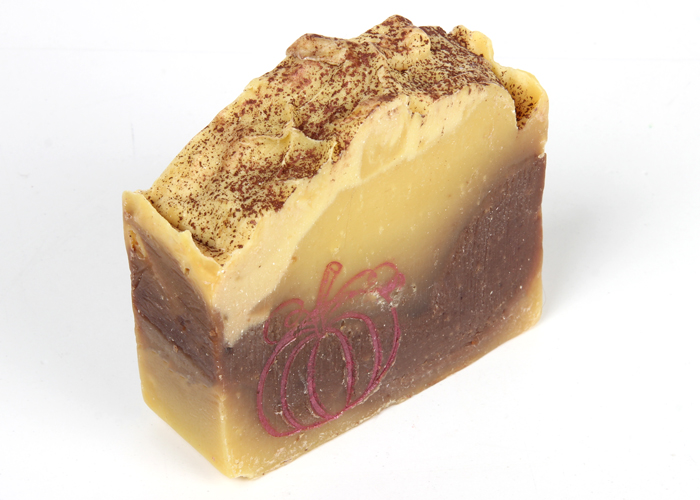 SOAP #10: Last but certainly not least is this beautiful soap made by Desiree of Mexico Beach Soap. Scented with Blackberry Sage Fragrance Oil and Vanilla Select Fragrance Oil, these bars smell both sweet and fruity. The scent is complemented perfectly with the swirls of purple and green. The swirl appears to be a combination of a drop swirl and hanger swirl. It really makes an impact!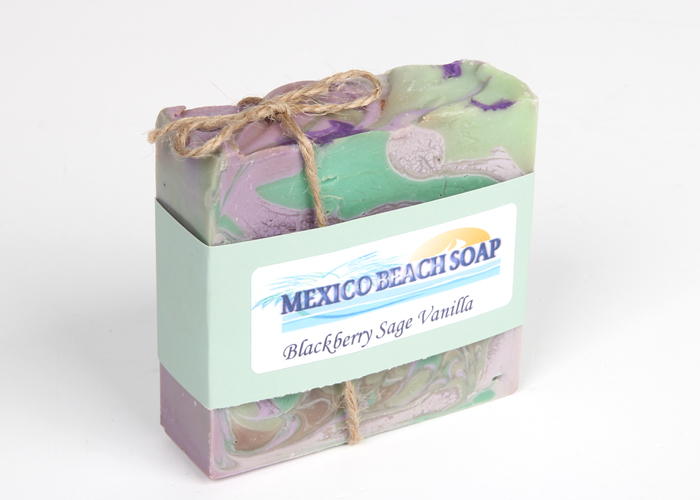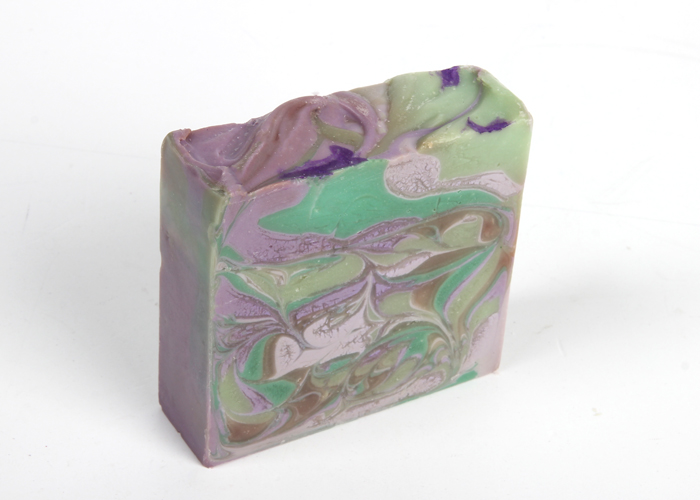 Find Desiree
Website
A big thanks to all the soapers who participated in this Soap Swap. And thanks to everybody who was in my box, I can't wait to use your soap! If you missed out on this swap, we will have another in the Spring. Sign up for our newsletter; we will announce the dates of the swap ahead of time to newsletters subscribers.