I am obsessed with licorice. I've heard rumors that chocolate is also delicious but when forced to choose, give me the acquired taste of licorice. For the record, my favorite kind is Panda (though RJ's or Darrell Lea's are never turned down) or the ultra-acquired taste of Salted Licorice (available at fine mail order stores or specialty candy stores). Even though I love straight-up licorice most of all, I'll still eat delicious Licorice Allsorts. And, I think that this project would make such a fun gift or a since it 'tis the season, a stocking stuffer. This project is easy and suitable for a beginner (just watch those temperatures!).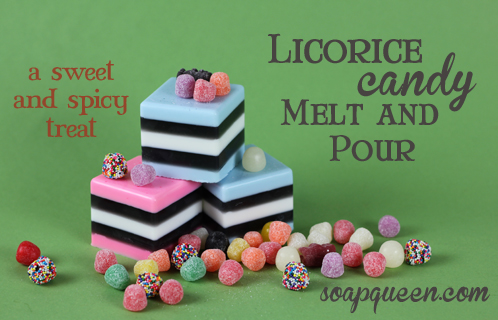 Recipe:
33.6 oz. White Melt and Pour Soap
22.4 oz. Clear Melt and Pour Soap
1.2 oz. Star Anise Essential Oil

Click here to add everything you need for this project to your Bramble Berry shopping cart!