At the Alabama Soap & Candle Convention, there was a question from the back of the room after my talk. A small business owner asked, "What was the moment when you knew you had really made it? When you had arrived?"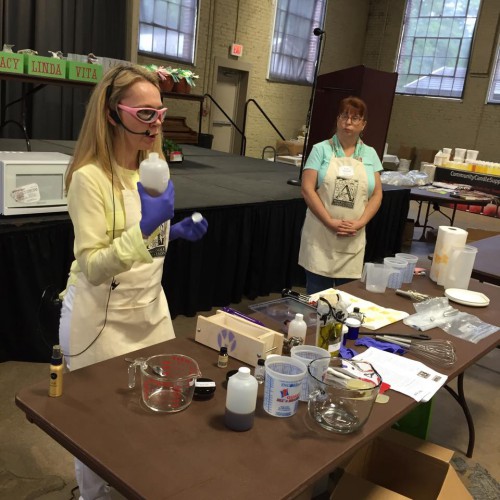 Demonstrating how to make soap with alternative liquids during the Alabama Soap & Candle Convention. Photo via the Alabama Soap& Candle Association Facebook.
I didn't say this from the stage – and I wish I had – but I never fully exhale. I never think I've arrived. I never feel like I can relax and sit back on my laurels and start only working part-time. Every day is a challenge and I never quit worrying, no matter  how much it looks like we've "arrived" looking from the outside in.
What I did say was that the moment I felt like a 'real' company was when Bramble Berry sold kits on the Home Shopping Network eight years ago. It required the Bramble Berry team to pull together like never before – to achieve what seemed impossible – delivering high quality kits to Home Shopping Network in a high volume at an impossibly low margin.