Today Heather Alvis, a local beekeeper, is sharing her beekeeping story. Heather and her husband Miguel have raised bees for over ten years in their backyard. Heather was kind of enough to share several jars of her "A Bee's Honey," with us, and it's what I used in the Pure Honey Cold Process Soap! If you've been thinking about beekeeping, Heather is full of information and tips. Visit her website here.
Bramble Berry is committed to saving the honey bees, and donates a portion of profits to the UC Davis Honeybee and Pollinator Research every year. Currently, you can save 10% on a collection of items, and the amount you saved will be donated to UC Davis Honey Research. Click here to learn about their research and facility. -A.M. 
Honey bees are an endless source of intrigue and delight. We've raised bee colonies for over ten years in our backyard in Bellingham, Washington. We started with a single colony and our apiary has fluctuated between 4 and 12 hives over the past decade. Honey is great by itself in a teaspoon, and in tea, yogurt, smoothies, salad dressings, etc. Local honey has much more flavor than store bought honey, and it retains the wonderful health benefits of the pollen particles that are usually filtered out in major brands. Once someone has a taste of "A Bee's Honey," they have a hard time going back to the store shelf. We sell or give the extra honey to friends, neighbors and family.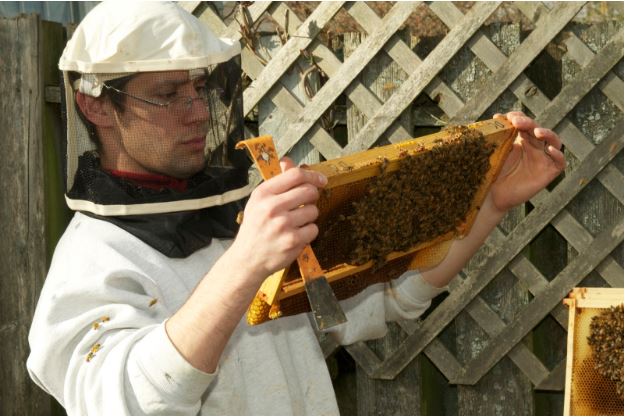 Miguel inspects the honey bees in his backyard. Miguel and Heather sell the honey their bees produce.

In order to make the best use of space in our backyard, we've built a "Bee Deck" which can house up to 12 colonies of bees comfortably. The Bee Deck is built 4 feet off the ground so that bees flying in and out of the hive are above the level of our heads. This is much better than having the hives on the ground. Our chicken coop is built to the side of the bee deck and they have a small tunnel that goes under the bee deck for the chicken run. We let the chickens out into a larger pen during the day where they can dig through garden scraps, kitchen compost and some of the injured or unhealthy bees straggling along. This synergistic approach to our apiary and chicken coop is a wonderful use of the space, and makes the bees easier to enjoy without worry.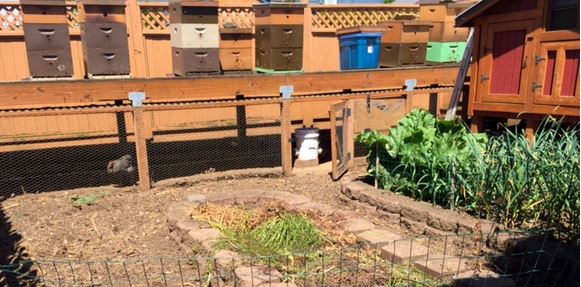 Heather's "Bee Deck" and garden. 
Making Honey is A Lot of Work
Honey makes a great gift, and fortunately we have a lot to go around. In our peak year, 12 colonies brought in 36 gallons of honey! This is no small feat when you consider that every little teaspoon of honey is the entire life's work of 12 bees. Even though they're small and often misunderstood, the honey bee is all about work. They don't care to sting anyone because all they want is to gather pollen or nectar or water and do their honey bee chore.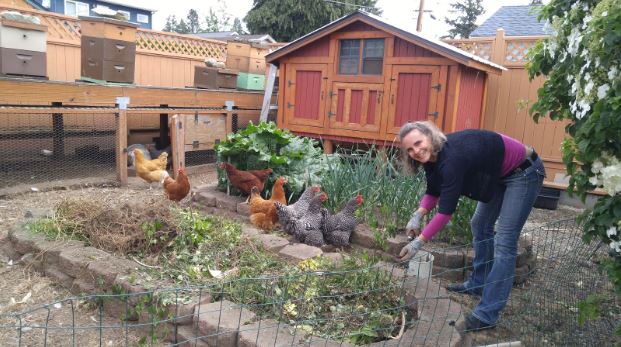 In addition to bees, Heather also raises chickens!
Honey bees are Not Like Yellow Jackets
Sometimes people mistake a honey bee for a yellow jacket, which is an entirely different insect. Honey bees are brownish yellow and have fuzzy abdomens. While honey bees seek out sugar in flowers they sometimes land on fruit or brightly colored clothing. If this happens, gently blowing on them or redirecting them to a plant is the best thing to do. Yellow jackets are bright yellow and black and have smooth abdomens and big black eyes. Yellow jackets are meat eaters and are more likely to zoom around a BBQ dinner outside. It is important to avoid using harmful chemicals to control yellow jackets that may harm honey bees. We have been successful controlling the wasps with bright yellow traps that have a meaty-scented attractant, as these do not trap the honey bees, but make for a more pleasant meal outside.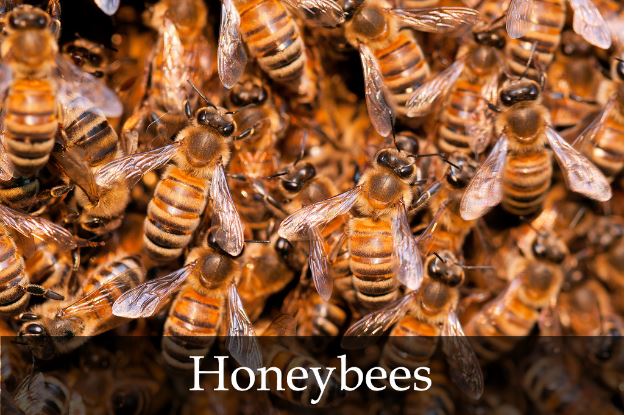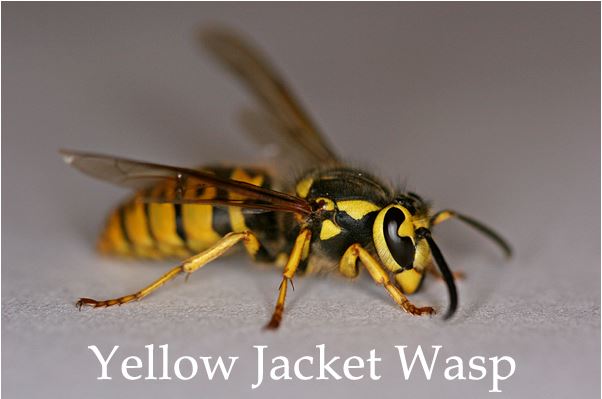 People often mistake honey bees and wasps, but they are very different!
The Truth About Stings
Generally docile and harmless, honey bees crawl or fly around humans with little risk of stings. Like any creature, honey bees don't like to be squeezed, so their natural instinct is to protect themselves by stinging. Unlike yellow jackets, a honey bee can only sting once, so whether it is protecting the hive or itself, the honey bee dies after it stings. Our children have been around bees since they were born, and they've only been stung a few times, which is remarkable considering how many bees are in our yard. Only if they accidentally step on or squeeze one in their hand do they actually get stung.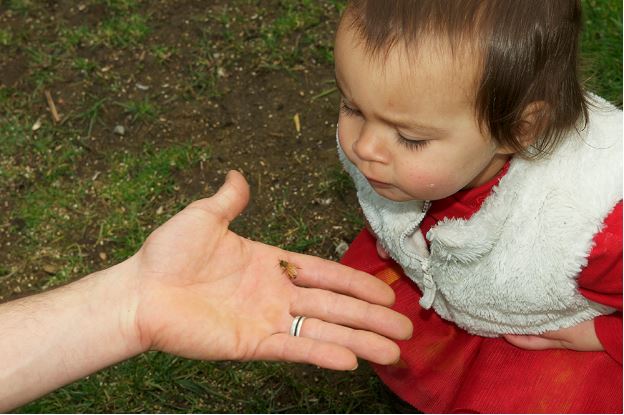 Honey bees protect themselves by stinging, but are generally docile insects. 
You Can Help by Giving Bees a Reliable Source of Water in Your Yard
We love to watch the bee workers around the yard and most of our neighbors say the same. In our yard we've installed bee fountains, which are a consistent source of water. They land on the shelves of succulents and water slowly drips through the various levels of the fountain. The bees have a safe place to land and gather water for the hive. The water is used to help cool the hive down and is mixed with pollen and nectar to create the bee bread, which is food for the developing larvae. We're just starting to gather momentum on selling DIY kits for building the solar powered bee fountains, which are truly wonderful. At a minimum, consider putting out water for bees in your area during the hot and dry summer months. A 5-gallon bucket with wine corks in it is a low-budget way to help the bees out. It usually takes 3 days to 5 weeks for them to find a new source of water, so "bee" patient.
Plant a Bee Friendly Garden
Since honey bees are a major contributor to the pollination of our local fruits, vegetables and flowers, our neighbors plant flowers that are bee friendly. Bee friendly gardens are those that have native flowers, flowers that have single rows of petals, and that bloom year round. Availability of consistent blooming flowers that are full of nectar make happy homes for these incredible creatures.  
Responsible Beekeeping is a Serious Hobby
Beekeeping is a wonderful hobby and more and more people are joining the ranks as beekeepers every year. If you are thinking about keeping bees there are a few considerations to keep in mind in order to be a responsible beekeeper.  
Unlike other livestock bees range far from home (up to 3 miles away). It is important to manage the health of your bees so that your colony doesn't become a vector transmitting pests and diseases to other colonies in the area.  

Equally important, especially in a neighborhood, is the need for swarm control. While this is the natural way for bees to increase the population, your neighbor might not enjoy have a colony of honey bees living in the attic or siding of their house.  

Essentially, it is important to realize that bees, like any other livestock not native to the area, need to be managed for their benefit as well as that of the beekeeper.  
Resources
If you are interested in keeping bees, we strongly recommend you read a book or two at a minimum such as First Lessons in Beekeeping and Beekeeping for Dummies and, if possible, take a course from an experienced beekeeper. You may be able to find classes through a Community Ed Program or a honey vendor at your farmer's market. There are also many local beekeeping associations that you can join where you will get a lot of important local information as well as make excellent contacts.  
To build a bee fountain, or sign up for one of our getting started classes in Bellingham, visit our website at www.beethirsty.com.
For more information on planting bee-friendly gardens, visit the Honeybee Conservancy.
Bee Culture Magazine is also a great resource for learning more about this fascinating hobby.