Danie and her husband Poncho worked in the restaurant industry when they decided they needed a change of pace. They moved to the High Desert of California, where they started raising Nigerian Dwarf goats. Danie began creating cold process soap with fresh goat milk from the herd, and her business Ava & Snow Goat Soap was born. Danie's soap has a classic and rustic look that lets the fresh ingredients take center stage. Learn more about Danie, her business and her adorable herd of goats below!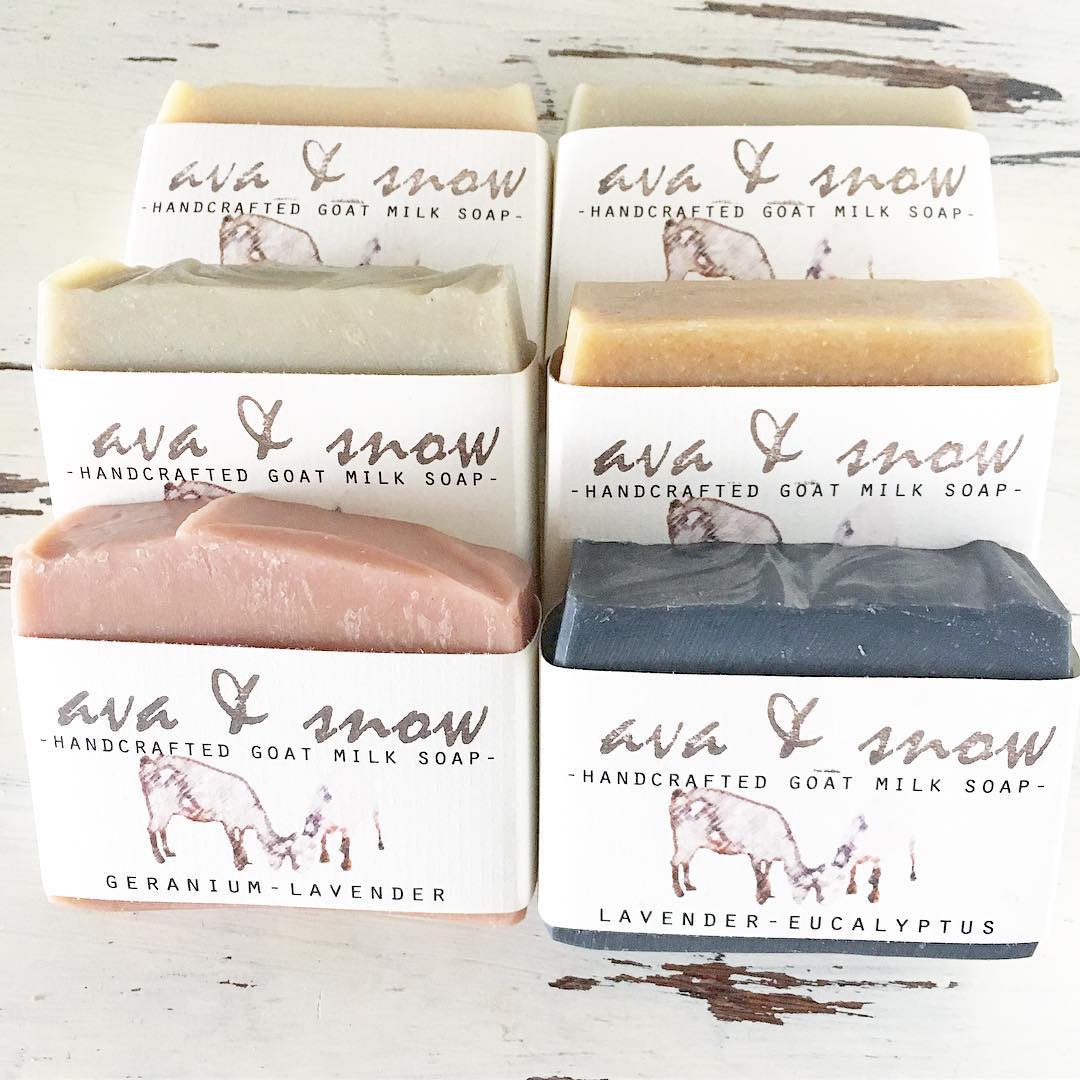 Before making soap, both you and your husband were in the culinary industry. What spurred the change of lifestyle?
Soon after we got married we decided we wanted to change the pace and lifestyle (restaurant/food business) we had known for so long. We returned to the High Desert where my husband had grown up to be closer to family, slow down a bit and take time to figure out what we wanted to do next. The goats were one of the first projects we took on! We had big dreams of fresh milk, cheeses, yogurt and a small step toward self sustainability! Starting a small soap business was never the plan and happened very naturally and kind of overnight I'd say.
I've only just started soaping for about a year now. We started raising Nigerian Dwarf goats the previous year and had just began enjoying fresh creamy goats milk. We were excited about all things goats milk and started making yogurt, cheeses, caramels, you name it. Which led me to my first batch of goats milk soap!
How did you come up with the name for your business?
Ava & Snow are the names of our first two goats. We started out with just the two girls, Ava & Snow. Actually, their full names are Ava Jean & Snow Ball! Goats are a lot like toddlers, they are a little bit ornery, will get into whatever you don't want them to, have escape artist skills, but are also very sweet creatures who will win you over! Snow is super sweet and a little shy. Ava is more serious and bossy as the herd leader. We really fell in love with them and soon we added Bingo who is our buck (he's the daddy goat). We now have 6 goats, 2 sheep, 15 chickens, a handful of bunnies and a dog.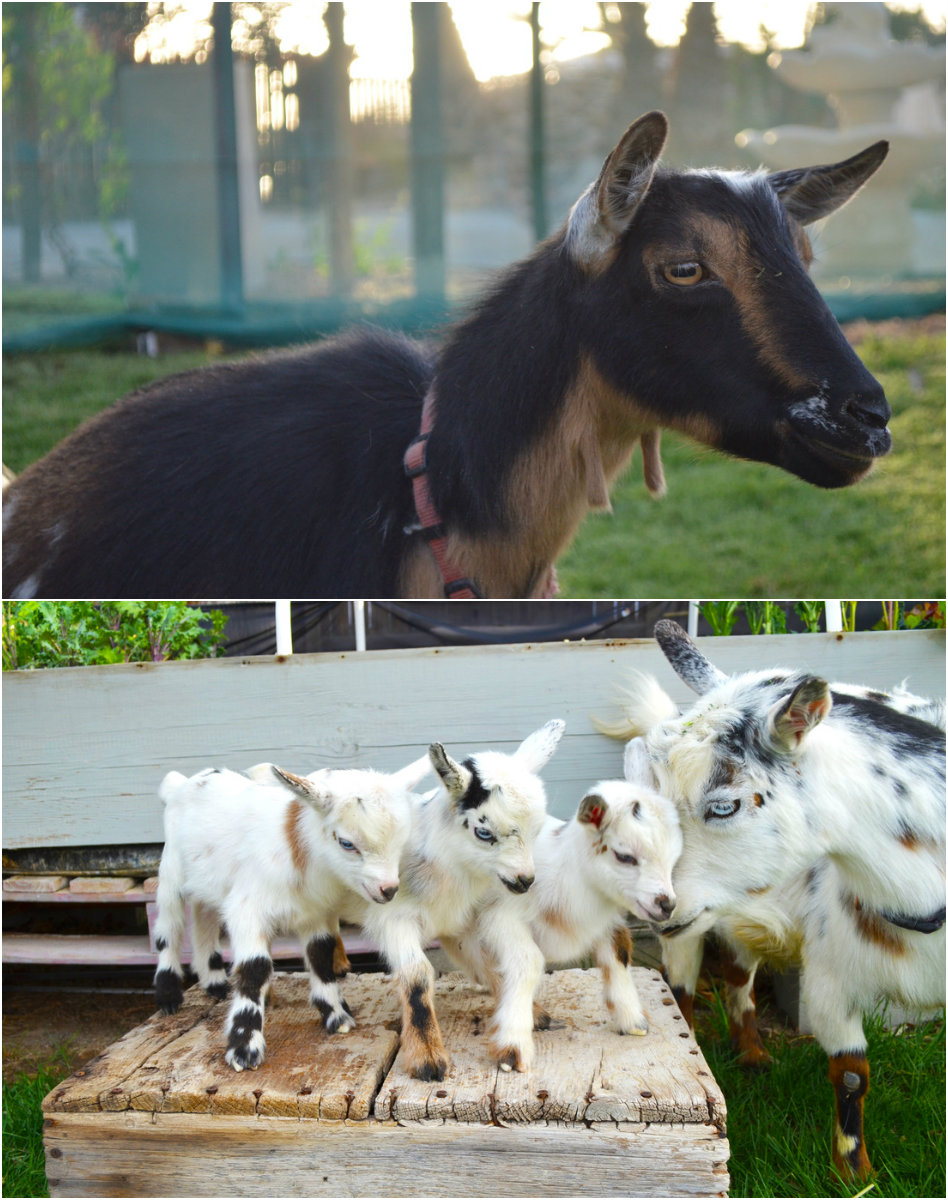 Danie named her business after her two goats, Ava Jean (top) and Snow Ball (bottom). 
What sort of advice would you give to those soapers just starting their businesses?
For me the biggest challenge of starting the business was just standing out there behind my product and selling it! I had spent so many years "hiding" in the kitchen "behind the scenes" where the real action was. I'm terribly shy and an awkward introvert, so I was forced to come out of my shell a bit to share my product at farmers markets and craft shows. I still struggle with this.
I feel I've just started my business myself so I'm not sure I'm full of great biz advice, but I can say that this handmade community has really been amazing to be a part of! I've been lucky to find a tribe of amazing people who support each other, lift each other up, cheer each other on and are happy to share experiences and advice when it comes to running a small handmade business.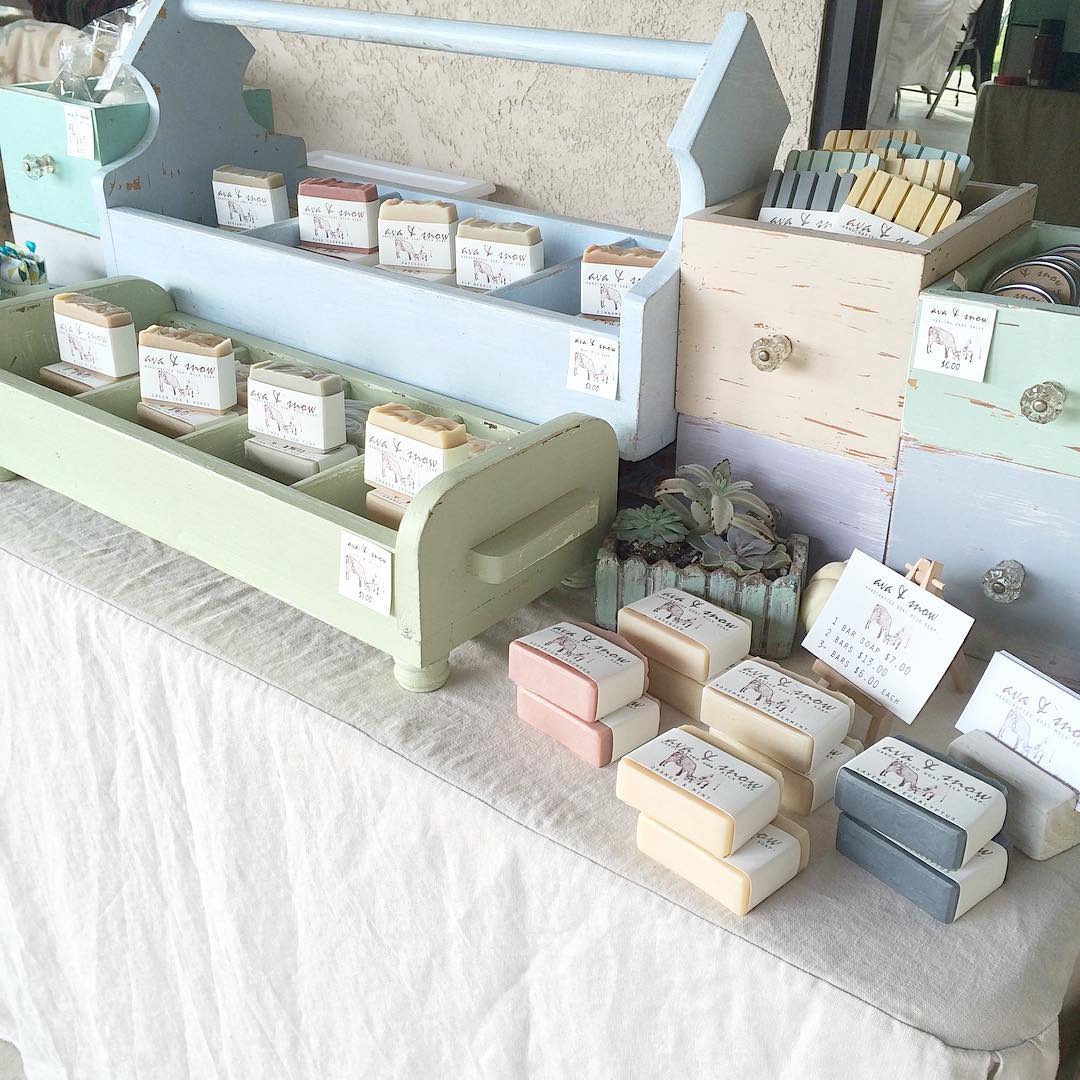 A gorgeous display of Danie's cold process soap. I love her attention to detail and soft pastel colors. 
What is your favorite type of product to make?
Soap is my favorite product to make. I've just got into making sea salt bars and absolutely love making and cutting those bars! I like it because it allows me to make a product that helps people with different skin conditions as well as offer a product that is chemical free and natural. That's why I made my first batch of soap really, I wanted to eliminate chemical use in my house and soap is a product I use everyday so it seemed like a good start.
What inspires you to create?
I think I'm inspired most by the season changes. I've always been challenged to create new dishes or desserts with the change of seasons. When I worked  as a pastry chef, what was in season was what was on the menu so I think it's just ingrained in me to create new scents or flavors as the seasons change.
You make your soap with goat milk produced by your own herd. Why is producing your own soap ingredients important to you?
I think it's what makes our goat milk soap special. The breed of goat we chose to raise may be the smallest dairy goat breed, but the milk they produce has a much higher butterfat content than others and creates a super creamy and moisturizing bar!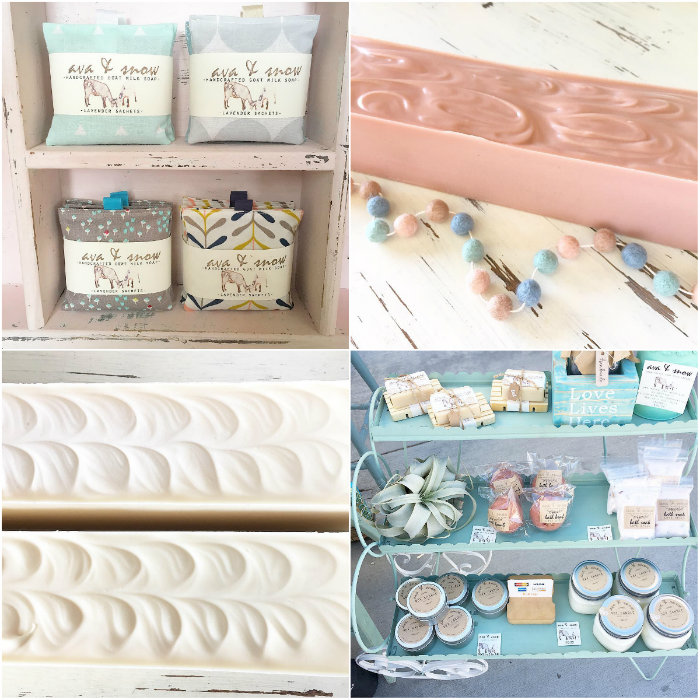 Top left, clockwise: Lavender Sachet, Lavender & Geranium Goat Milk Soap with Rose Clay, a display of various products, Lavender Goat Milk Soap
What's your #1 tip for creating soap with milk?
Don't skimp on the milk! Use the full amount of milk and don't water it down. I think you want to get as much milk benefits as possible in each batch for super creamy, moisturizing, luxurious bar soaps.
What is your favorite Bramble Berry product and why?
I really love the Lavender Essential Oil because it smells so amazing!
Tell us something unusual or unique about yourself!
Before raising goats and starting my soap business I had been a pastry chef and worked in the restaurant business for about 15 years.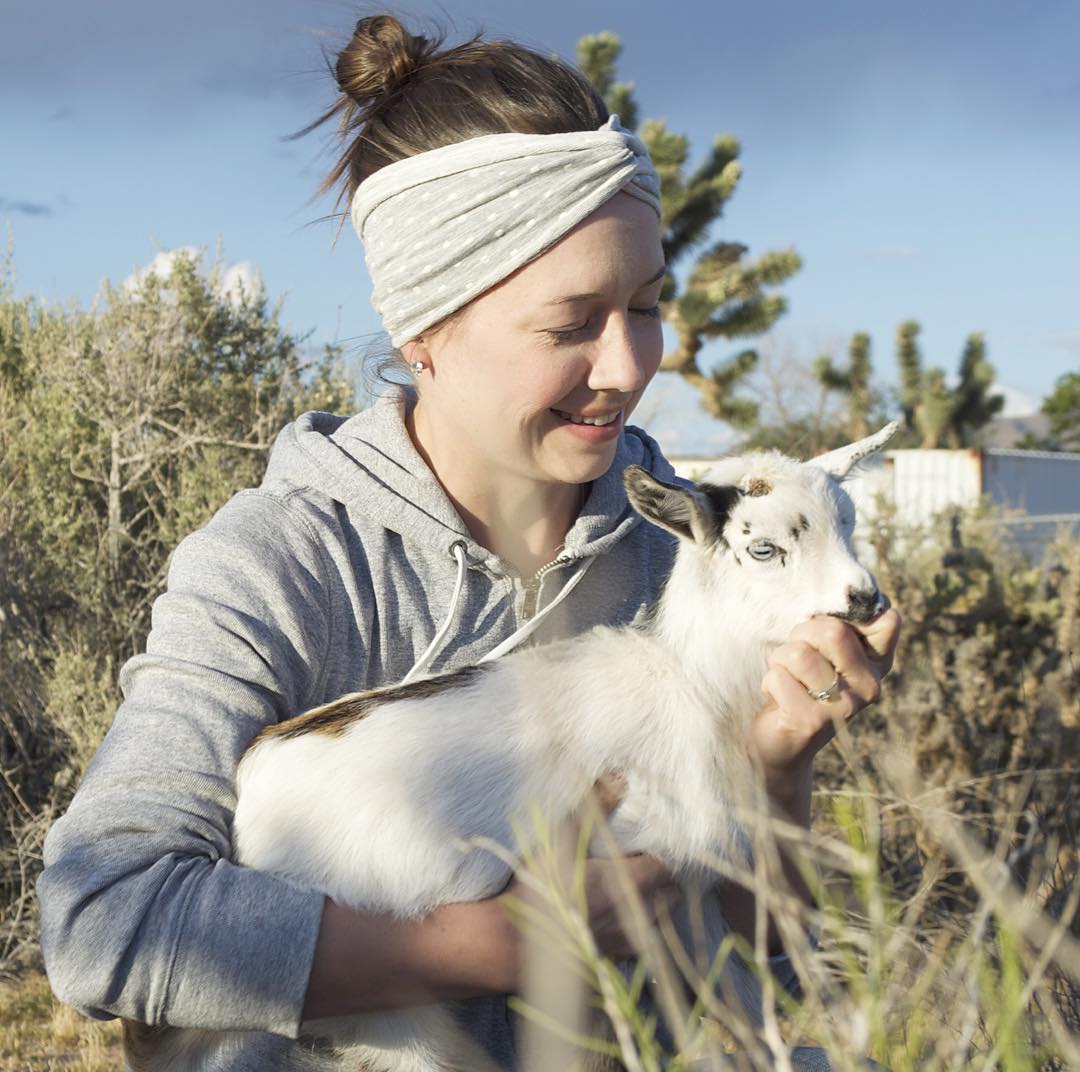 Danie and a goat in her herd. Danie and her husband couldn't consume all the milk their goats were producing, so started making soap with the leftovers.
What are some of your other hobbies and interests?
I love to cook and bake! Also make goats milk caramel candies that I hope to bring to the market in the near future! Gardening/growing as much of our own food. We also raise chickens, bunnies and recently added lamb to our small farm.
Have you ever experienced a horrible soapy fail? How did you work through it, and what did you learn?
Once I must have had a couple large chunks of lye that didn't get mixed into the milk and ruined the whole batch. I had to toss all of it but now I stick blend the milk and lye mixture really well before adding to the oils and actually think that it make the soap creamier.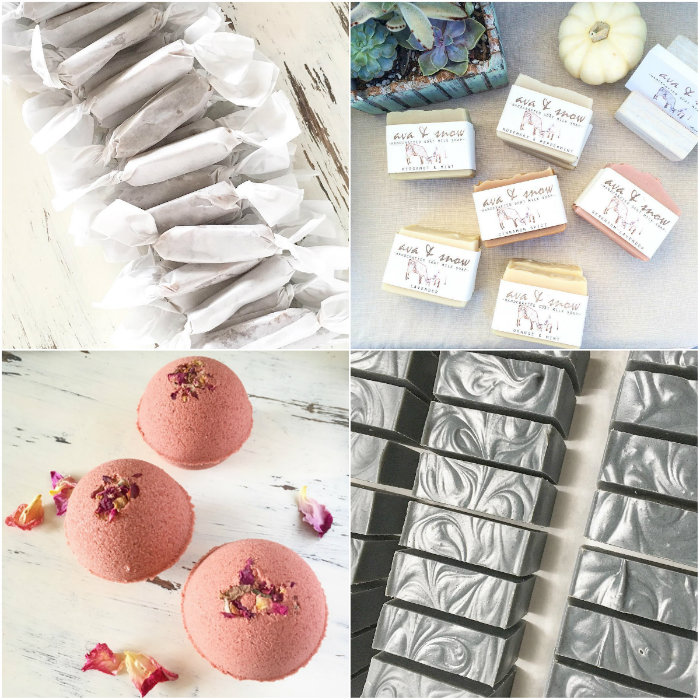 Top left, clockwise: Danie makes caramels with her goat milk, a collection of cold process soap, Lavender and Eucalyptus with Activated Charcoal Goat Milk Soap, Love Spell bath bombs (limited edition)
What do you love most about creating bath and body products?
I really like the specific measurements and methods it requires. I've always liked organization and precision along with working with my hands. The process of soap making felt natural to me and very much like baking and pastry did. Following and creating recipes was familiar and comfortable to me.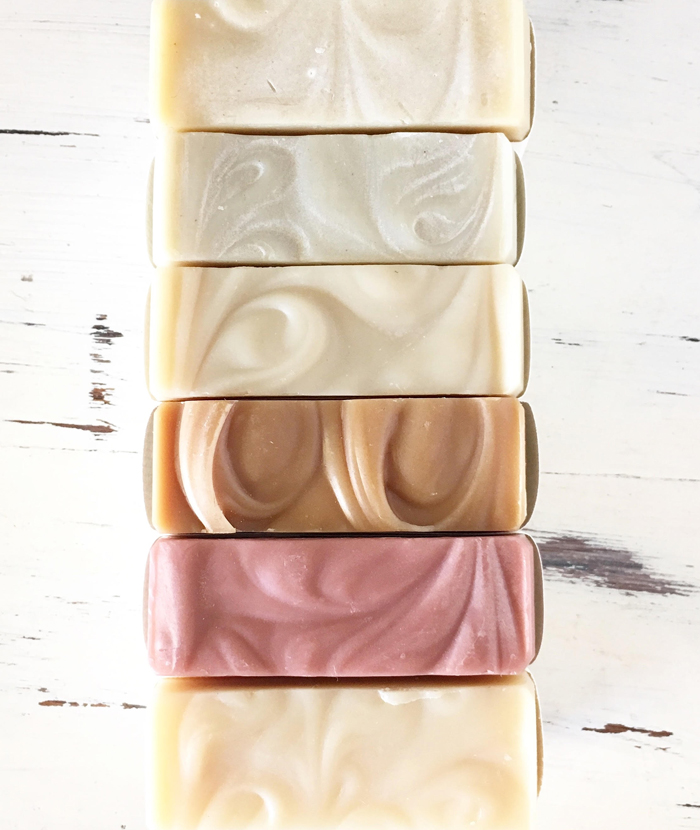 Find Ava & Snow Goat Soap
Website
Etsy
Instagram