A talented crafter whose soapy empire seems to expand year after year, Kenna of Modern Soapmaking and the Gratitude Soapery (formally Amathia Soapworks!) is one businesswoman we sincerely admire. Kenna has been soaping for almost a decade, and in that time she has made a name for herself as someone with a meticulous eye for detail. No swirl or sparkle is ever out of place! I often draw inspiration from Kenna and her designs, and earlier this year we were pleased to feature her 100% coconut oil cold process recipe on this blog.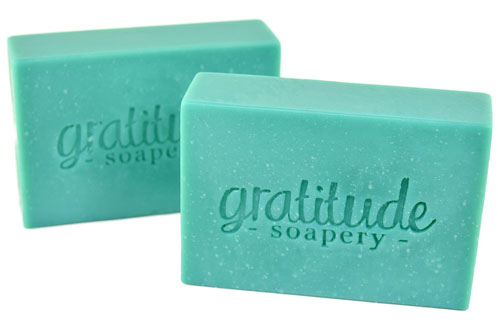 Earlier this month, Kenna announced the retirement of Amathia Soapworks and introduced Modern Soapmaking, which she hails as the soapmaker's companion. Loaded with tips, tutorials and ebooks, it's a soapmakers best friend. Not only that, she also announced her newest business outfit, Gratitude Soapery. A portion of the soapy sales go to a featured charity, as well as to programs that benefit Kenna's local community in Kansas City, Mo. Read on to learn more about what inspires one of our industry's most cutting-edge soapers:
Soap Queen: How long have you been soaping for and how did you get started?
I have been soaping for almost ten years now. I began soaping in 2004, with my introduction to soap making guided by a lovely local soap maker named Judy, the woman behind Sunrise Soaps. At the time, they had a shop on Main St. in Gardner, Kansas. I wandered in there one day and we hit it off.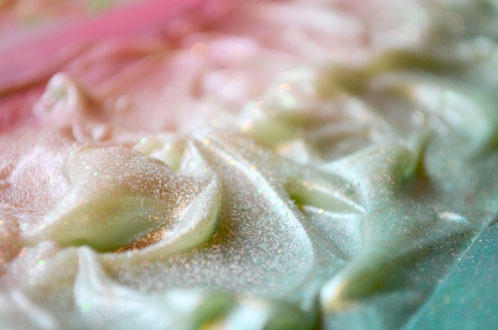 And then there was Kathy Miller's website. At the time, Kathy's website was one of the very few online resources for soap making. My first batch was peppermint soap with a red clay swirl. I used common grocery store oils, from a recipe on Kathy's website. It was poured in a $2 kitty litter pan I bought at Wal-Mart and lined with a trash bag. That batch made something ridiculous like 30-40 bars of soap, but turned out great and sparked my love affair for the craft.