We're all about intricate swirls, lovely layers and exotic techniques, but sometimes you want something simple and elegant.
This two-layer soap features a classic black and white color scheme. The key to this technique is keeping the layers smooth and straight. The little something special in this recipe comes from the Bamboo Powder extract, which is a mild exfoliant added to the bottom white layer. This soap was finished with gold mica painting, which popped beautifully against a black background. Who says simple can't be pretty?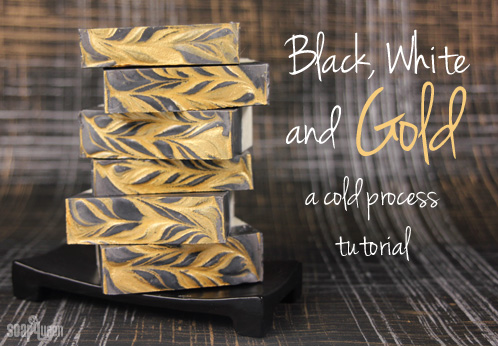 Keep in mind that this soap does have a light grey lather, although it's almost unnoticeable on your hands. If you'd like a white later, consider adding 1/2 tsp. or even 1/4 tsp. dispersed Black Oxide colorant (less than we used), but keep in mind you won't end up with the same black color in the photos. Additionally, the gold topped mica won't last for more than a wash or two, but we still think it's worth it!