Welcome to the end of September, everyone! It seems like just yesterday it was summertime, and we've been taking advantage of the changing seasons by getting out and about as much as possible. We enjoyed an evening out on the beach and have been taking plenty of pre-dinner walks throughout our neighborhood. In fact, the changing scenery is what inspired our newest melt and pour project!
In Soap Crafting news, I am very excited to say that we've reached the number 1 selling book on Amazon in three categories: soapmaking books, candlemaking books and candlemaking Kindle ebooks. Myself and the team are overjoyed by this news, and I am so excited to share my passion with others through this book.
In baby news, a new Brambleberrian has joined our family! Our Social Media Manager, Kristen, gave birth to her first child, Ewan Montgomery Clawson on Saturday, September 21. Both momma and baby are healthy, and they stopped by the office yesterday to say hi. Ewan is so tiny, and it's hard to believe that Lily was that small just a few short months ago! I was so awestruck and gobsmacked that I didn't get one picture (!). She's promised to stop by next week so expect a photo of the littlest Bramble Fan soon.
For now, sit back with a nice cup of hot apple cider and enjoy this week's Soapy Social Media Round Up.
Pins: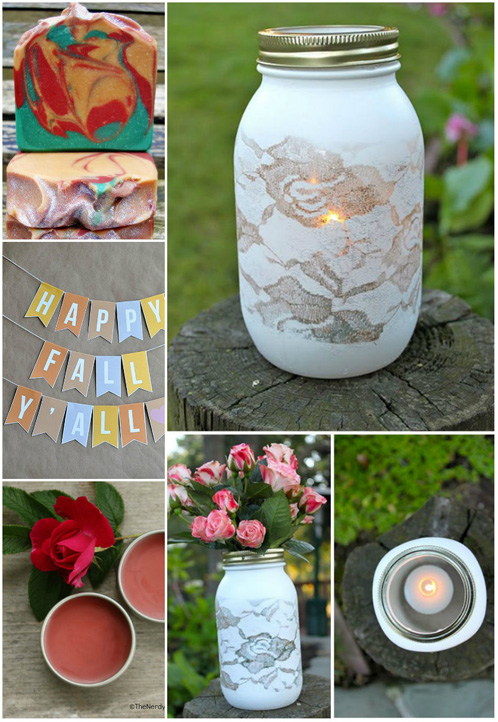 Clockwise from top left:
Instagrams and Vines:
It's getting colder around here, but that didn't stop us from creating this bright, flower-inspired cold process frosting recipe. Soap frosting is super fun and way easier to whip up (pun intended!) than it looks. Check out a tutorial we did for soapy cupcakes with frosting to try it for yourself.

Our first holiday inspired soap of the season! This is our Holiday Holly design, made in our Square Tray Mold and garnished with real Cranberry seeds.
Tweets:
This list of business (and life!) lessons from Bella Lucce is so inspiring. I love thinking about her first tip — passion is a great equalizer. Don't let the fear of failure or the unknown scare you away from starting a business around something you love.
I could not believe this when I first saw it: an Odwalla Super Food smoothie has as much sugar as FIVE Krispy Kreme Doughnuts. How unbelievable is that? I love comparisons like this because they cause me to pause and examine all those "healthy" food claims.
This blog post shows that even some of the world's most successful corporations still haven't nailed down social media yet. Social media sites such as Pinterest aren't just for posting pretty pictures (although how many hours have we all spent looking at pretty pictures on Pinterest!); they represent very real ways to build and maintain a loyal customer base.
Have a wonderful weekend, everyone! To keep up with the latest soapy social media throughout the week, you can follow me on Twitter, Tumblr, Vine, Instagram, Pinterest and YouTube.