I can't believe more than a month has passed since the Soap Crafting book was released. Since then we've seen some jaw-dropping soaps, and even started the Soap Crafting Club to get you more involved in our soapmaking community. Last month we announced the Pinterest-iffic Soap Crafting Contest so soapers could show off their gorgeous interpretations of the designs from the book, and I was blown away by all the amazing entries.  I sort of feel like Sally Field, "You like me! You really like me!"  It was difficult to pick our favorites; thank you for everyone who shared your interpretations of the Soap Crafting soap designs.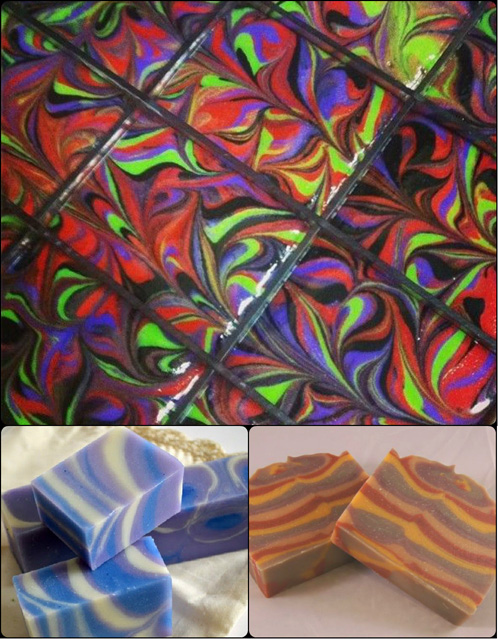 I loved seeing how people made the Soap Crafting recipes their own, and I want to remind everyone to not be afraid to put their own personal twist on the recipes in the book. That's what makes it so fun! Overall, every soap we saw was fantastic and everyone's photo that included the #soapcrafting tag will appear on our Pinterest board. We hope that the board will serve as inspirational resource and encourage you to experiment with various new soapy techniques. Are we missing yours? Just comment below and let us know the link and we'll get you pinned!
Top: Tanya from Baby Duck Soap Co. created this truly-psychedelic Cranberry Fig Salt Bar using the Psychedelic Green Tea Technique from the Soap Crafting book. I was mesmerized by the intense colors and can't wait to see this one ummolded. You might even recognize Tanya's talent as she was a feature of one of our Facebook Photo's of the week earlier this year.
Bottom Left:  Jamie from Crochet Dynamite took her time, but poured her very first column pour cold process soap with the recipe from the book. I was impressed with her soap and talent (on the first try!). She is also a knitter and created the cutest little pom-pom bookmarks that she used to hold her place in the Soap Crafting book. Take a look here.
Bottom Right: Audra Weisenberger did an stunning job with the Clay-Spoon Plop. The warm colors and distinct layers are so eye catching. In fact, it looks like she even used the same colors  as the recipe (Sea Clay, Green Zeolite Clay, Yellow Silt Clay, Rose Clay and Kaolin Clay).  This inviting and earthy color palette makes for one fabulous soap.
Congrats to Tanya, Jamie and Audra! They'll receive all the ingredients for one of the projects in the book, and we can't wait to see what they'll do with them! Please contact us at contest(at)brambleberry(dot)com so we can get your packages out ASAP.
Thank you again to everyone who participated, and you can see more awesome Soap Crafting recipes on our Soap Crafting Pinterest Board here. The contest may be over, but we'll keep adding your photos to our board. What recipes from the Soap Crafting book have you tried so far, and which ones are your favorites?