Can you believe Christmas is next week? These last few weeks of the year have been racing by, and I've been busy with end of the year festivies (taking the annual Santa photo, for example. It went over exceedingly well….).
The blog had a lot of action on it this week. Kenna of Modern Soapmaking kicked it off by sharing solid tips on how to run your own business and on finding inspiration. Make sure to read her interview to find out what she considers to be her biggest business mistake. Do you sew? Have you ever thought about sewing? Here's an easy tutorial on making little pants for babies and toddlers. You can size them all the way down to newborn up to 4T. Curious to know what commenters called "gorgeous" and "beautiful" this week? Click on through to see the Smoky Bay Cold Process Tutorial and see how gradiants took a colorful upscaling. Over 35% of candle sales happen during the Holiday season. If you are curious about how to capitalize on that trend, read all about EcoSoya Advanced Wax here and check out the oh-so-seasonal Chai Tea Latte Candle tutorial.
Now on to the Facebook Photo of the Week! These soaps are worth their weight in gold, frankincense and myrrh.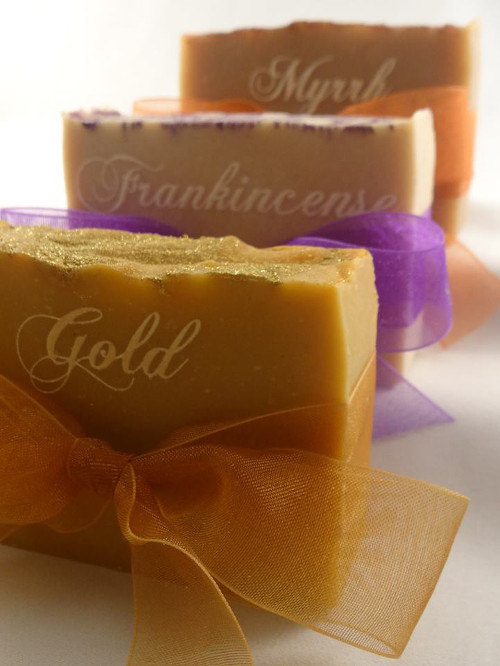 This weeks Facebook photo of the week comes from Carrie of Simply 7 Skincare. Carrie's soap caught my eye with her beautiful packaging and clever "Gifts for a King"  idea. Each soap features glitter on top with a coordinating ribbon. The soaps are scented with Mayan Gold, Frankincense & Myrrh, and Cedar & Saffron. I love Carrie's concept. If you love clever packaging as much as I do, check out the Make it Monday: Packaging Challenge.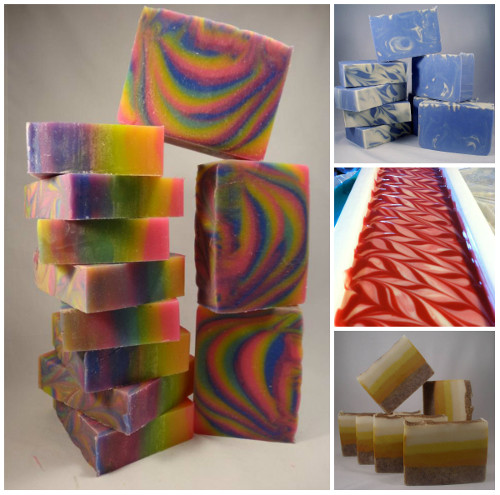 Simply 7 Skincare is a family based business that also makes lotions, lip balms and a huge assortment of other bath and beauty products. Their Coconut Milk Lavender-Mint Soap and All Natural Lotion Bars look lusciously decadent. All the products look fabulous! Thanks for being a part of our fantastic soapmaking community, Carrie, and thanks to everyone else who posts beautiful photos of their creations on Bramble Berry's page each week!
Carrie's Facebook Page: Simply 7 Skincare
Carrie's Website: Simply 7 Skincare
Post pictures of your soap creations on the Facebook page each week for a chance to be featured on the Soap Queen blog and receive a sweet soapy package from Bramble Berry.