Welcome to another weekend, everyone! Hopefully you had a fun and productive week — I know I did because my Mom was here to help out with the craziness that comes with two kids and two working parents. To celebrate the release of Soap Crafting, I created a series of cold process recipes inspired by the book. Each recipe was chosen for its unique additives or challenging new technique. I hope they help you expand your soaping skill set. The recipes are Busy Beeswax Soap (soaping with beeswax), Sudsy Shampoo Bars (soaping with citric acid to lower pH), Strawberries and Cream (adding cream and fruit puree to soap), and Bramble Berry Soap (soaping with beer).
In baby news, Lily spent mornings at home with the nanny and Grandma this week and then came to work with me in the afternoons. It's hard to believe, but she is almost 3 months old now. She is turning into quite the charmer. Having Mom/Grandma around to help help take care of Jamisen and Lily and our garden was such a relief; bless her; she planted all my Fall starts in the garden. It's always a great time when she comes to visit. I'm looking forward to a fun, family-filled weekend since Grandpa arrived on the train late last night (and we let Jamisen stay up to welcome him). But before we take off to Farmer's Market, here is our Facebook Photo of the Week. These little guys are just wait for their kisses to turn into Prince Charmings.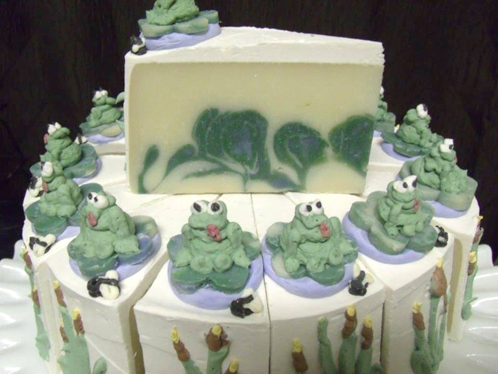 This week's photo comes to us from Michelle Daniel, owner of Tea Time Creations, LLC. What I loved about this soap was the sheer amount of detail that went into it. The handmade frogs with their little tongues and eyes, the reeds growing up the sides of the cake and even the unsuspecting little black fly sitting next to the frog. I can't imagine how many hours of painstaking focus and precision it must have taken. Michelle made this soap for the Holly Swirl Challenge hosted by Great Cakes Soapworks, which presents awesome competitions with a different theme each month. Michelle has plenty of her other creations displayed on her website, blog and shop too, and sometimes it's hard to believe they aren't edible! Thanks to Michelle for this excellent display of creativity, and thanks to everyone else who posts, comments and interacts with us each week on our Facebook page. I look forward to seeing your wonderful photos each and every week.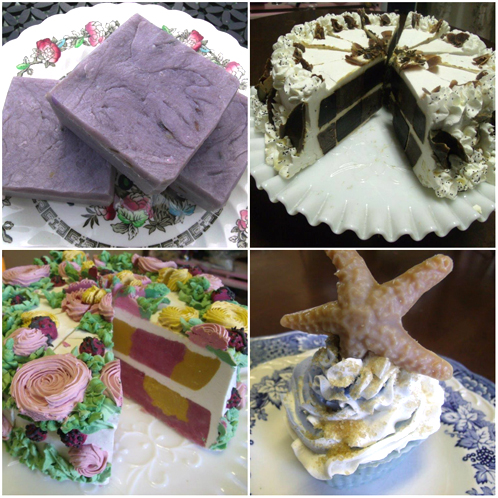 Michelle's website: Tea Time Creations
Michelle's Facebook Page: Tea Time Creations
Michelle's Blog: Tea Time Creations
Be sure to post pictures of your soap creations on the Facebook page each week for a chance to win a gift package from Bramble Berry, and don't forget to check Soap Queen regularly for soapy news and updates!