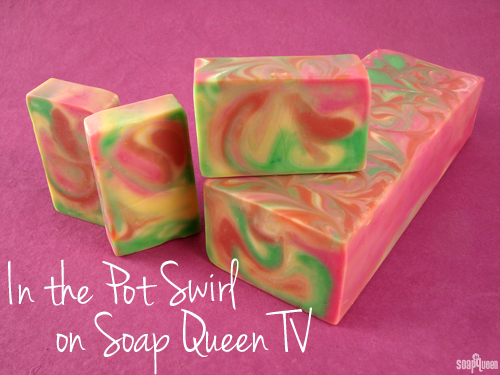 In this throwback Thursday episode of Soap Queen TV, I'm joined by Christy from KB Shimmer to create a brightly-colored in-the-pot swirl cold process project. This stunning technique produces beautiful results, and every bar looks unique. Made with vibrant LabColors and scented with Energy Fragrance Oil, this soap screams of a tropical vacation!
A more advanced technique, I recommend watching the Basics of Cold Process Soapmaking series before attempting this project. In particular, be sure to review lye safety guidelines; when working with sodium hydroxide lye goggles, long sleeves and gloves are a must! Once you've got a few batches under your belt, an in-the-pot swirl is a great swirl technique before moving on to trickier swirls, like the Infinity Swirl, or the Classic Swirl.
What You'll Need:
23.9 oz. Olive Oil
13 oz. Palm Oil
10.4 oz. Coconut Oil
3.12 oz. Cocoa Butter
1.5 oz. Castor Oil
16.8 oz. Distilled water
7.2 oz. Sodium Hydroxide Lye
1 mL Marigold LabColor
.7 mL Bright Cherry LabColor
.7 mL Green Apple LabColor
.7 mL Vibrant Orange LabColor
3 oz. Energy Fragrance Oil
5 Lb Wood Log Mold with Velcro Straps

Click here to add everything you need for this project to your Bramble Berry shopping cart!