Difficulty:

Advanced

Time:

2-3 hours

Yields:

About 3 lbs. of soap
Henna body art is a very popular tradition in India. Henna, or mendhi, is a paste of crushed leaves and twigs from the henna plant. When this paste is applied to skin, it leaves a beautiful stain behind. The tradition is often used to celebrate a happy occasion or special day. What better inspiration for a cold process soap?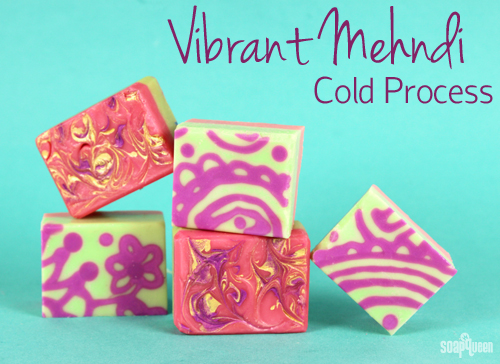 The intricate detail and gorgeous designs are breathtaking to look at. To recreate the mehndi appearance, cold process soap colored with Radiant Plum Colorant is used to trace a mehndi inspired design. Brightly colored lime green and pink soap top the henna pattern. Scented with a fresh and slightly smoky mixture of Lime Fragrance Oil, Mango Mango Fragrance Oil and Patchouli Fragrance Oil, this is the perfect soap to celebrate a happy occasion.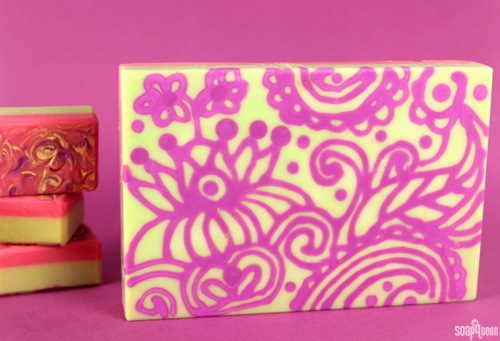 Creating the mehndi pattern using squeeze bottles can be a little tricky, and may require some practice. The key is achieving the right trace consistency; the soap should be thin enough to flow out of the bottle, while thick enough to hold its shape. To simplify the technique, a pattern was placed under the liner to use as a guide. This mehndi template is available for download if you'd like to recreate the same pattern.
(more…)