Soapy Social Media Roundup
Hello everyone, merry (almost) Christmas! There is holiday hustle and bustle both at home and at Bramble Berry. We're gearing up to shoot a few episodes of Soap Queen TV tomorrow before taking a small break for the holidays. Bramble Berry will be closed for Christmas and have a skeleton crew the 23rd, 26th and 27th. The warehouse also has to do inventory (Thanks IRS!) and as soon as they're finished, will ship orders in the order they were received.
Take a break from the holiday madness and check out my favorite pins, tweets and 'grams from the past two weeks. Happy Holidays, all!
Pins of the Week: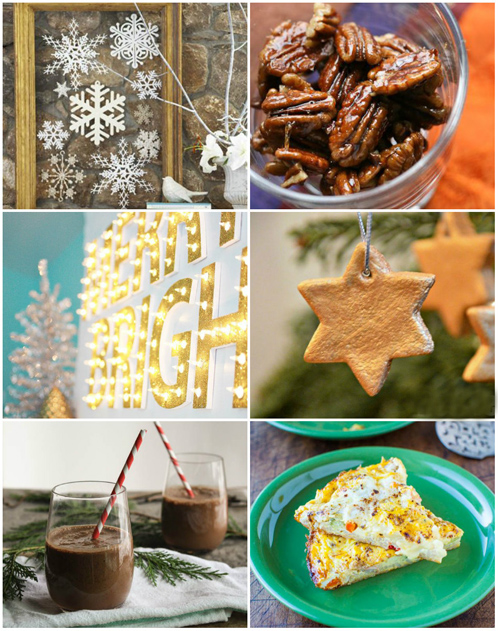 Top:
I don't know how, but I've amassed quite a collection of old picture frames. Instead of throwing them out, this upcycled DIY snowflake picture frame project is a great new use for them, and you could leave them up all throughout winter.
A sprinkle of ginger, a dash of salt and a few tablespoons of maple syrup and voila! These maple-ginger glazed pecans are an easy on-the-go snack or a great salad topper.
Middle:
So cute, so festive, so simple: I love this "Merry and Bright" sign.
I saw this Salt Dough Star Garland immediately thought, 'perfect kid project!' It's like making your own clay, but with ingredients you can find in your own cupboard. A little bit of salt, flour and water is all you need.
Bottom:
This awesome Peppermint Mocha Smoothie is a great alternative to sugary sweet drinks. It would be so easy to throw everything in a blender and it as a mid-afternoon pick-me-up!
Packed full of protein and super filling, I've got to make this veggie fried rice frittata. Little mouths in our house hold will love that it's cut in a pizza-slice shape too!
Instagrams:
You can't get much cuter than this rainbow heart soap. These new Mini Heart Silicone Column Molds make it easy to create too. Sign up for our newsletter to get step-by-step instructions on how to make this project coming January 2014.

Tweets:
To keep up with the latest soapy social media throughout the week, you can follow me on Twitter, Tumblr, Vine, Instagram, Pinterest and YouTube.
tagged as: Instagram, Pinterest, social media, twitter
Leave a Comment
(Your email address will not be published)