Soap Queen Lab on Etsy
Since the day we started doing weekly tutorials on Soap Queen, we've been swimming in soap, scrubs and balms. I give a lot of soap away to my friends and family (they LOVE it!) and let our retail store, Otion, use them as displays. And, frequently, a reader will email or call and ask if they can see the soap in person because, let's face it, sometimes holding the actual product is just the missing piece you need to figure out how to make it. Thus, the Soap Queen Lab Etsy Shop was born to help our tactile learners.
Every batch is a one off, so when these goodies are gone, they are gone. Since this is designed to be an educational and instructional experience, every item comes with a full color printed recipe and instructions on how to make your own batch at home. Items may differ slightly from the pictures due to the handmade nature of each goody.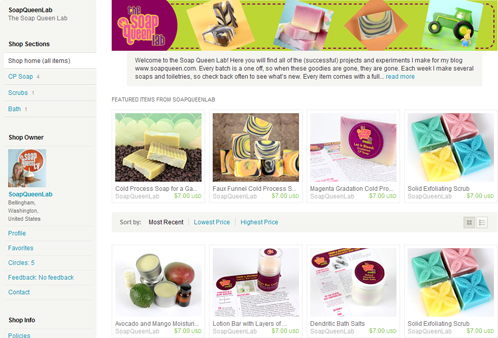 Why do we do this?
Our Etsy shop is another avenue to help soapers learn. Sometimes it helps people to see and touch the actual outcome of a tutorial to get a better sense of how it's made and what to expect. Every item includes the step by step, full color print outs of the tutorial along with every product so even a beginning cold process soaper can successfully recreate the soap themselves. I want fellow soapers a chance to experience the results of Soap Queen tutorials firsthand.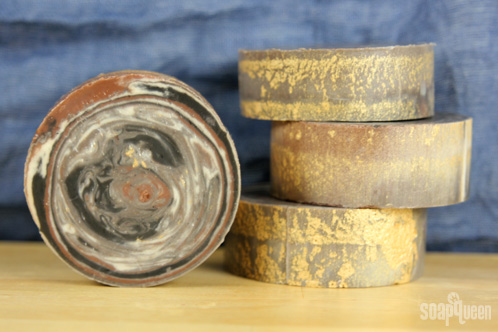 The soap above is from the Silicone Column Oatmeal Milk and Honey tutorial. I made this soap back in August, and it features one of our top selling scents, Oatmeal Milk and Honey Fragrance Oil. This soap is for sale on our Etsy here if you want to see this little soapy gem in person.
The Importance of Etsy
For beginning soapers (and even experienced soapers!), Etsy is one of the easiest ways to start selling your products online. The set-up process is intuitive and fast, and once you complete it you can begin selling right away. Etsy opens you up to huge untapped market of customers from around the world, and if you don't believe us, take a look at some of these Etsy stats from November 2013: $147.5 million worth of goods were sold, which represents almost 7.5 million items. There were roughly 3.5 million new listings, with (a crazy) 2.1 billion page views! To learn how to set up your own Etsy shop, check out our Bramble Business Series: How to set up an Etsy post!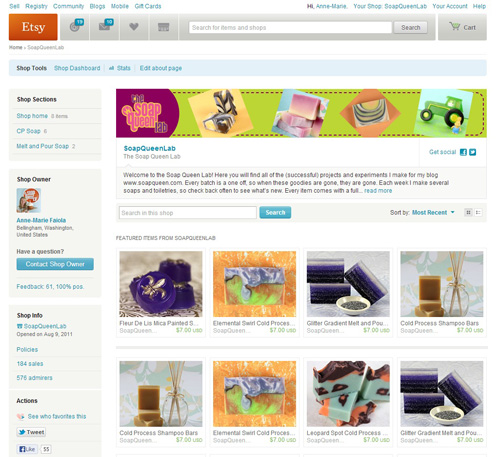 If you have your own Etsy shop, what tips or tricks do you have for those who are new to selling products online?
2 Responses to "Soap Queen Lab on Etsy"
Leave a Comment
(Your email address will not be published)